Friday July 23, 2021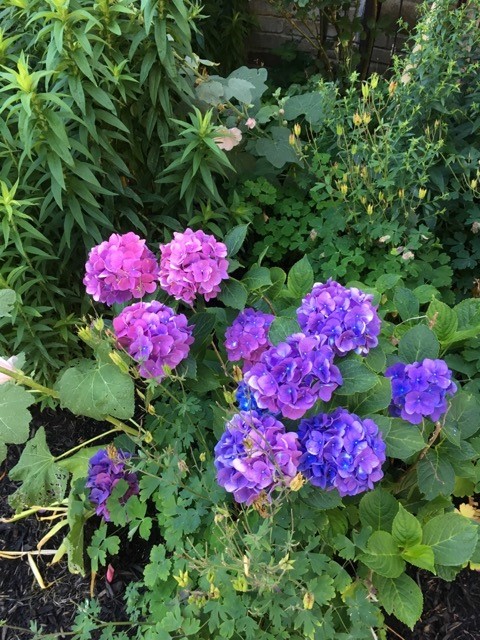 Dear First Friends,
How can it already be July 23rd?
A new quote for you- The opposite of old is not young.The opposite of old is new. As long as we can experience the new, we will gloriously inhabit all of the ages that we are and welcome all of the dreams that we have. SARK
Here's to the newness of each day! Take good care.
Lynne
**********
This week our United Church Moderator, Richard Bott made an important statement on Residential School Burial Sites. Please take time to read, ponder, lament, pray and learn.
WORSHIP THIS SUNDAY
Sunday July 25 - Rev. Harry Disher – "Discernment"
To join the service please CLICK HERE.
Join us for Coffee time and Conversation! CLICK HERE
**********
WEEKLY WORDS FROM THE PART-TIME MINISTER OF WORSHIP AND PASTORAL CARE
Summer Worship at 10:30 ~ Rev. Harry Disher and I have been using Practicing Our Faith by Dorothy Bass as a basis for our sermons. On Sunday, July 25 the theme is Discernment, August 1 - Household Economics, and August 8 - Honouring Our Bodies. The balance of the summer services is provided by the other three Waterloo United Churches. The links for all worship services and to the time for praying together before worship at 9:45 and for conversing after worship during Coffee Time can be found on our webpage at https://www.firstunitedchurch.ca/ or (Click Here).
Joys & Sorrows ~ Every Sunday in the Summer at 9:45 (Click Here) Before worship during July and August, come to an interactive time for us to share our joys (events and moments in our lives worth celebrating) and sorrows (our griefs and struggles that need communal comfort). Let's give each other the gift of listening and gently holding one another in prayer.
Wednesdays through Sept 1st (11:30 to 12:45) (Click Here) We'll watch a video and discuss how we imagine our church and life will be moving forward. Come to one, come to all. All welcome! [Note: No session on July 28 - please attend the information session on Indigenous studies instead (Click Here).] (See the next entry on an Invitation to Learn About . . .)
Invitation to Learn about a Special Course on July 28 at Noon. Kelly Laurila who was our sacred song-keeper on Indigenous Sunday teaches an ONLINE course on reconciliation in the fall. It is open to the community. Might you consider being a student once again? [For the introduction session on July 28 at noon (Click Here); to check out the course on the Renison College of Waterloo University website (Click Here)
Nurturing Better Relationships ~ During July we have been given access to a series of strategies to strengthen and nurture our relationships. This campaign is provided to us free through the United Church Benefit program and runs until July 30. The four modules feature information on Relationship with Yourself, with your Partner, with your Family, and with your Friends and Colleagues. To access these modules (Click Here).
Feeling Stressed? You may enjoy this (Click Here).
July Birthday Celebration ~ Tuesday, July 27 at 7 PM (Click Here) Calling July Birthdays! "Come and share one of your birthday stories!" It's fun and friendly! And please send me your August birthdays so I can send you a reminder for our next celebration.
Let's get Together! I will be in the office on summer Tuesdays, except for August 3. That week I will be in on Saturday August 7. If you would like to have uninterrupted visit with me, please email or call me and we will pick a time that works for us.
And finally! A Congratulations to our Graduates! Know we all wish you well and cheer you on to all the places you'll go (Click Here).
Pastoral Care ~ Please reach out if I can be of pastoral assistance. I am just a phone call or email away. The Rev. Rose Ann Vita (Mobile: 647-763-0101 / Email: rose.ann.vita2@gmail.com) Happy Summer!
______________________________________________________
BOOK CLUB
The Book Club will be meeting again on Saturday, August 21 at 9:00 am. The next book selection is "This is the Story of a Happy Marriage" by Anne Patchett.
Wordsworth will receive the books shortly. Please call the store to pay for a copy (with 20% off) before you pick it up at their back door in the laneway (or in store after August 2).
To join via Zoom please go to our website. (CLICK HERE).
Greg Case
**********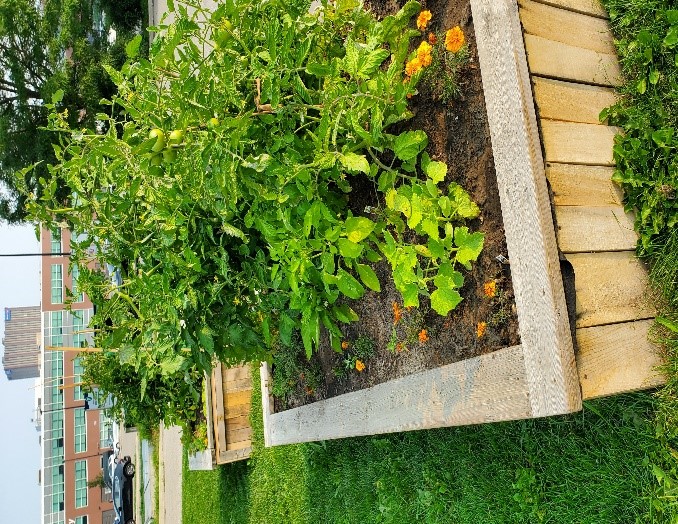 SMALL GROUPS COMING ALIVE
Gardening
Community Garden
The heat and rain have been perfect for the rapid growth of our Community Garden plants. I wonder how many little green tomatoes are hiding amongst our healthy plants.
Everything's doing well thanks to the good care of staff and members of the congregation and lots of community interest!
Holy Strollers
Join Rev. Harry Disher on several occasions this summer for some meditative walks
in a local park or on a hiking trail, Wednesday evenings at 6:30 till 7:30 p.m. Amble for 45-50 minutes, then regather and share findings, discoveries, experiences.
We will begin with Victoria Park:
July 28: Victoria Park - Meet at the Jubilee Avenue and David Street parking lot
August 18: Waterloo Park, East side - including Eby Farm area. Meet at the iron bridge across from the Barrel Yards and behind the Perimeter Institute.
August 25: Waterloo Park, West side - Meet at the West side Gazebo.
Harry
Let's Talk About It - Broadview Magazine Discussion Group
We will not be meeting in August but will resume in September. Our September gathering will be held on Wednesday, September 15 at 10:00 am.
Click Here to join the September meeting.
Walt
**********
HELP WANTED! SUNDAY TECH SUPPORT!!
We are hoping to find some people in our congregation who would be willing to help with Sunday morning worship.
(Beginner & Intermediate Level) Managing the sound in the Sanctuary: Turning on and off mics during the service, setting the sound levels and catching any sound issues that arise.
(Beginner & Intermediate Level) Managing the "service flow" that is being presented on a livestream and on the screens in the sanctuary, switching words for hymns and liturgy and changing "slides" that are being presented.
(Advanced) Streaming and Production
(Beginner & Intermediate) At home you can set up the slides for each Sunday's service (you will need a computer)
Training will be provided for all of these roles. The hope is that we develop a roster of people who are able to take scheduled weeks.
If you are interested in learning production skills or curious about how things work and would like to help out, or simply know more, please contact Greg Case at gregjcase@gmail.com
There are also volunteers needed to help update the webpage and various "computer" tasks.
For High School Students this can be used towards your community volunteer hours
Thanks
Greg
**********
WORSHIP IN COMING WEEKS
SUMMER WORSHIP SCHEDULE
DATE

SERMON

August 1

Rev. Rose Ann Vita - "Household Economics"

August 8

Rev. Rose Ann Vita – "Honouring our Bodies"

(All four Waterloo Churches participating)

August 15

Rev. Jenn Hind (Emmanuel)
(All four Waterloo Churches participating)

August 22

Rev. Joe Gaspar (Parkminster)
(All four Waterloo Churches participating)

August 29

Rev. Andrea Allan (Westminster)
(All four Waterloo Churches participating)

September 5

Rev. Harry Disher - "Keeping Sabbath"
You can always view the weekly service by going to the webpage each Sunday morning, or you can see previous live streams at firstunitedchurch.ca/live.
You can also go to our webpage to find the Zoom Link for Coffee Time each Sunday after the church service.
If you would be interested in leading a worship service or in participating in some way please let me know at gregjcase@gmail.com.
For Pastoral Care needs please email the church (office@firstunitedchurch.ca). For our Minister of Pastoral Care call Rose Ann Vita 647-763-0101 (cell) or rose.ann.vita2@gmail.com (email).
Interested in Membership? Or in knowing more about the United Church of Canada? Just contact Rev. Harry Disher (revharryd@gmail.com) or Rev. Rose Ann Vita (rose.ann.vita2@gmail.com). They will be happy to find a time to have a conversation with you.
**********
WAYS TO DONATE TO FIRST UNITED
You can get your offering to the church office in several ways:
You can use PAR, or
E transfer to firstunitedchurch@rogers.com, or
Website donation to www.firstunitedchurch.ca, or
Send a cheque to First United Church, 16 William St. West, Waterloo ON N2L1J3, or
Drop a cheque into the mailbox located at the Entrance on William St. side.
**Just a reminder- credit card companies have a fee of around 3-5%. If you wish the church to get the full amount, then please add that % to your contribution.
Rev. Harry Disher will be on vacation from August 1-15. In case of pastoral need or emergency please contact Rev. Rose Ann Vita (mobile: 647-763-0101; Email: rose.ann.vita2@gmail.com).
**********
STEWARDSHIP/FINANCE
We very much appreciate the generous response so far to our Stewardship letter.
Nancy
| | | | |
| --- | --- | --- | --- |
| | Month of June | June YTD | YTD Prior Year |
| General Fund Local | $16,381.00 | $84,382.23 | $96,663.26 |
| Wage Subsidy Grants | 531.40 | 8,658.01 | 2,828.15 |
| Other Operations | 10,147.83 | 50,463.28 | 41,102.59 |
| Mission & Outreach | 4,573.00 | 22,535.12 | 23,782.00 |
| Total Income | $31,633.23 | $166,038.64 | $164,376.00 |
| Salaries & Benefits | 23,967.13 | 138,599.46 | 122,858.96 |
| Other Expenses | 7,286.48 | 55,954.60 | 54,483.19 |
| Mission & Outreach | 4573.00 | 22,535.12 | 23,782.00 |
| Total Expenses | $35,826.61 | $217,089.18 | $201,124.15 |
| Excess Income/Expenses | $(4,193.38) | $(51,050.54) | $(36,748.15) |
| Capital Income | 3,340.84 | 155,044.70 | 45,998.22 |
| Capital Expenses | 66.49 | 147,014.39 | 31,299.87 |
| Capital Excess Income/Expenses | $3,274.35 | $8,030.31 | $14,698.35 |
**********
NOON HOUR CONCERTS - EXCITING NEWS!
The Choir Auxiliary is happy to report that in-person live Noon Hour Concerts will resume in October, with the caveat that should pandemic restrictions resume, concerts could be cancelled. Earlier this spring, the Board and Safety Committee gave us permission to proceed with our planning. For the concerts, all Covid Safety Procedures will be in place and if required, attendees will need to pre-register in order to comply with attendance regulations.
Unfortunately, the 100% sponsorship which we received this winter for live streaming, is no longer available.
Looking for a fun volunteer job? Please consider joining us as we continue to require help with the preparation and sale of the lunches, proceeds of which pay for our fabulous musicians.
Stay tuned for the concert schedule on the church's website and in the August newsletter.
Let's hope for smooth sailing!
Sharon Gowland
Noon Hour Concert Co-ordinator
**********
SUMMER AT FIRST UNITED
I'm Bored! There's Nothing to do!
Friday Letters- July 23 and August 20
Community Needs - sun hats, ball caps, socks for all ages - drop off in container on our porch - 210 Stanley Dr.. Waterloo
Joys and Sorrows - 9:45 - meet by Zoom before Sunday worship- supporting one another
Weeding and watering gardens!!!
Church services and Coffee Time each Sunday- check schedule in this Fri. Letter
Summer Blooms - give an extra summer blooms financial gift to First- an extra boost helps!!
Courageous CHURCH- Wed. July 14 - Sept. 1 (11:30- 12:45) - video and discussion - imagining as our lives and church move forward
Take a Picture - Where do you see God? - send it to lynneblakedickson@gmail
Fun for all ages
New Small Group!!- check out Holy Strollers - meditative walks with Rev Harry in Victoria and Waterloo Parks
Count the tomatoes on our tomato plants in the Community Garden
Support/attend the Skylight Festival at Five Oaks just outside Paris- August 28 or 29
and more……
Have a great summer everyone!!!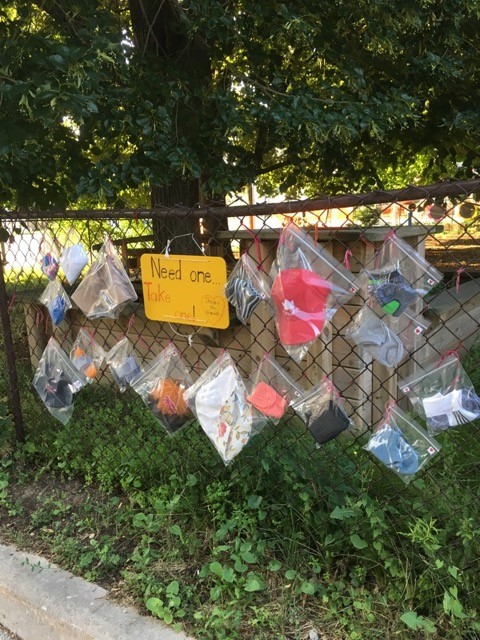 **********
SKYLIGHT FESTIVAL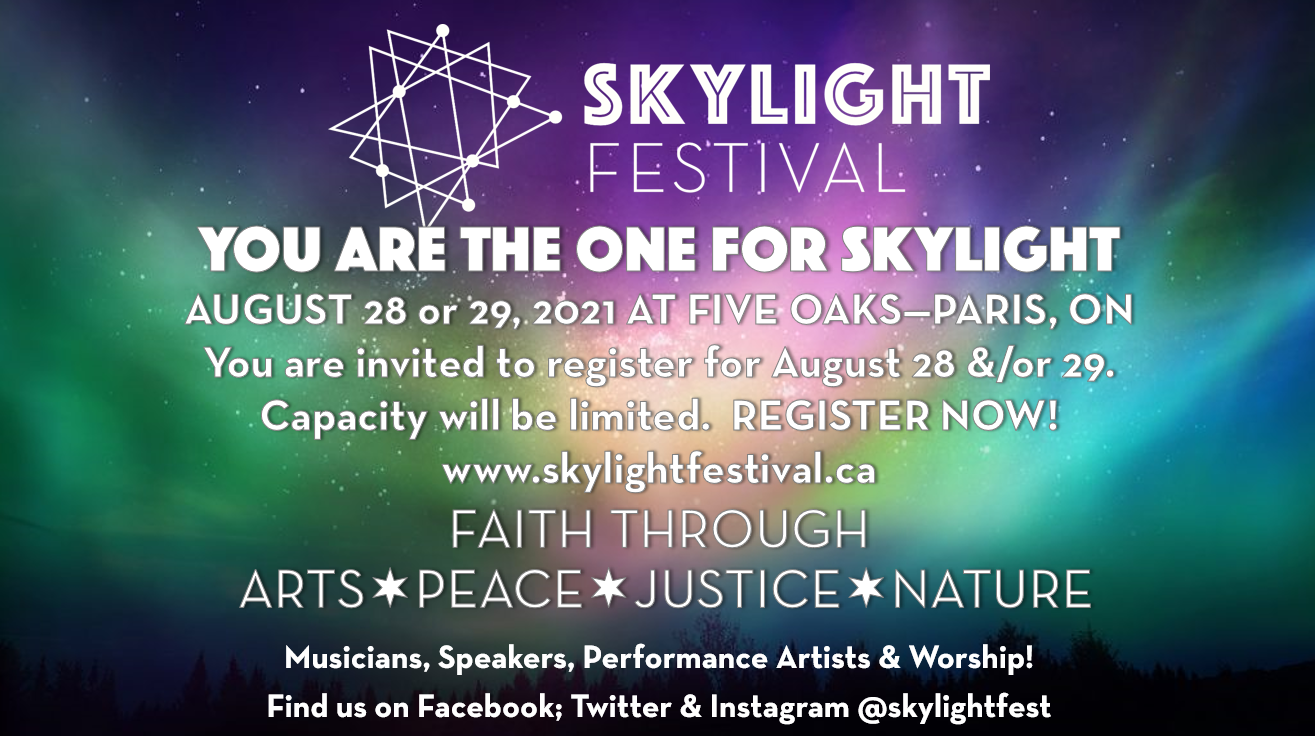 **********
Together We Stand, but Apart