Friday March 4th , 2022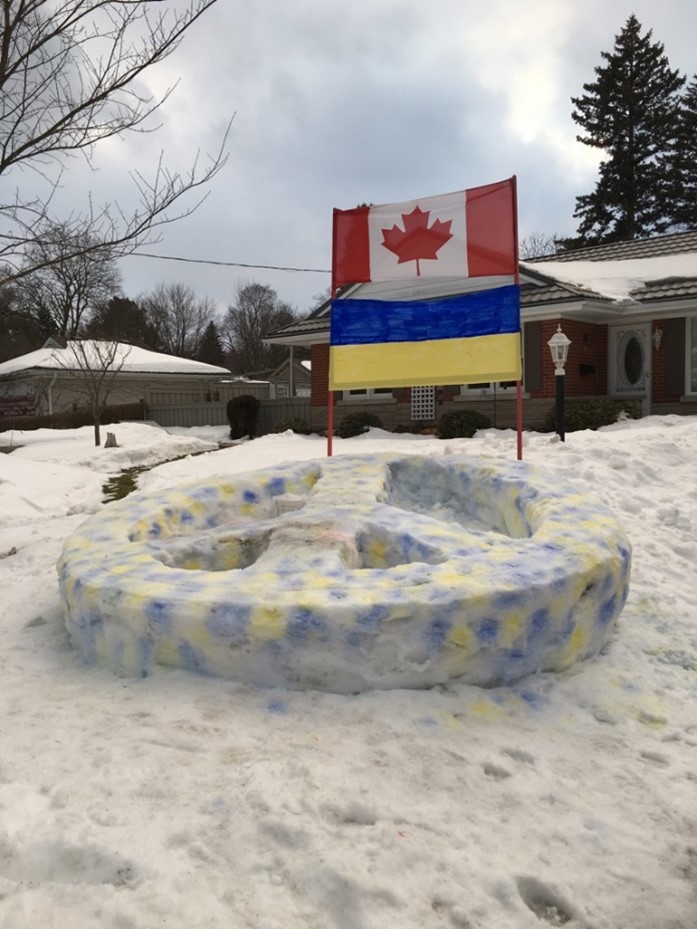 LET US PRAY FOR THE PEOPLE OF THE UKRAINE AND FOR PEACE!
---
WORSHIP THIS WEEK
Sunday March 6th, 2022 - Rev. Rose Ann Vita
At 9:45 to 10:15 (CLICK HERE) Joys & Sorrows - is an opportunity to gather and hold one another's intentions and concerns for the world in our hearts of prayer.
At 10:30 am - Worship – Lent 1
Theme 'Jesus: Wisdom of God – Sophia Becomes Flesh'
International Women's Day
To join the service please CLICK HERE
---
WORDS FROM THE PART-TIME MINISTER OF WORSHIP AND PASTORAL CARE
Online World Day of Prayer ~ TODAY! Friday, March 4 at 10:30 AM (CLICK HERE) This year highlights England, Wales, and Northern Ireland. A Canada Virtual Service has been prepared by Women Inter-Church Council with voices from across Canada and the world, including Linea Good. Online Zoom space will open at 10:00 AM for socializing before the service.
Online Prayer before Sunday's Service ~ March 6 at 9:45 to 10:15 (CLICK HERE) Joys & Sorrows is an opportunity to gather and hold one another's intentions and concerns for the world in our hearts of prayer.
Online Sunday Worship ~ March 6 at 10:30 (www.firstunitedchurch/live) Our theme is Jesus: Wisdom of God ~ Sophia Becomes Flesh. Throughout the old and new testaments, Divine Wisdom has been attributed to God and to Jesus. (For example, Proverbs 8 and 1 Corinthians 1). The Greek word for wisdom is Sophia, a feminine noun. You can imagine how this perspective might put a spin on our traditional understanding. In addition, this week celebrates International Women's Day, and both themes are woven into the service. The readers are members of our UCW, the Children's Story is Hidden Figures, a book about black women mathematicians, and our soloist is Cydney Morris.
Online Caring Community ~ Tuesday, March 15, 2022 @ 2 PM The topic this month is "What is a smell that brings back fond memories?" The sense of smell is closely linked with memory, probably more so than any of our other senses, often helping us to recall a long-forgotten event or experience. For example, a fragrance, such as honeysuckle may bring back moments of playing as a child in your grandparents' yard, or a whiff of vanilla pudding may conjure up times in your mother's kitchen. Let's reminisce and share the moments that certain scents bring back to life. CLICK HEREfor the Zoom link.
Online Meeting Jesus Again for the First Time ~ Wednesday, March 16 at 1 PM (CLICK HERE) The March 16 session covers chapter 4 of the Borg book - Jesus and Wisdom: Teacher of Alternative Wisdom. All are welcome to this 45-minute bi-weekly session. You need not know the Bible or have heard the sermon. Just come! [Future sessions are March 30 - chapter 6 Images of Jesus and Images of the Christian Life (Story Theology) and the last session April 13 - The Truth of Easter]
Praying for Ukraine ~ In the face of such tragedy, we are unable to pray. May this scripture from Romans 8:26-27 provide a way to lift up our cry for peace and sanity:
The Spirit, too, comes to help us in our weakness. For we don't know how to pray as we should, but the Spirit expresses our plea with groanings too deep for words. And God, who knows everything in our hearts, knows perfectly well what the Spirit is saying, because her intercessions for God's holy people are made according to the mind of God.
You may also find comfort in this article on Communal Lament (CLICK HERE)
Staying Connected ~ You may not know but each season a letter is sent to those without internet and includes a glimpse of future activities. The Lent & Easter issue is full of exciting events (CLICK HERE)
Upcoming Worship Services ~ If you would like to participate in crafting the April 24 Earth Day, please let me know. And looking ahead, you might want to mark your calendars for these opportunities to worship together: Happy Hour Church on March 27th and April 10th at 4 PM; Maundy Thursday (TBA) & Good Friday (10:30 AM) Waterloo Church Services; Online Easter Vigil (8 PM); and Easter Sunday Worship (10:30 AM).
If I can be of pastoral help, don't hesitate to contact me.
Be blessed to be a blessing, the Rev Rose Ann Vita
(rose.ann.vita2@gmail.com ~ 647-763-0101)
In-Person Worship Begins on Sunday, March 13, 2022, at 10:30 AM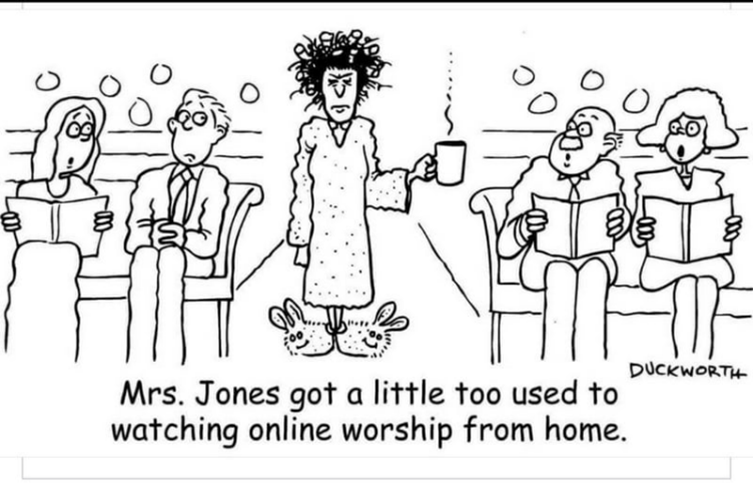 ---
NEWS OF OUR REFUGEE FAMILIES
Covid has continued to delay movement for our refugee families, but we finally have some good news!
The application for the Mahrat family (Lebanon) has been sent to the embassy in Beirut. This is a big step closer for them!
The application for the Aldroubi family (UAE) is still waiting at the United Church but getting close to the top of the pile. They will be sending this application to Immigration, Refugee and send Canadian Citizenship once they have their quota for this year.
Thanks to a generous donor, we are continuing to support these families as they wait for this long process to be completed.
Cathie Stewart Savage
---
CHAT TIME: MONDAYS, NOW AT 7 P.M.
Join Harry, your host, for an hour of chatting and sharing about matters on your heart and mind such as how you are faring during Covid-19 Times, sermon talk-back, joys and concerns, requests for prayer, etc. Our discussion and conversation will be moderated to some extent to ensure that everyone has some airtime. The Zoom link will be on our Church website.
Harry
---
SOME HIGHLIGHTS FROM OUR ANNUAL MEETING – FEBRUARY 27TH, 2022
(a) NEW OPPORTUNITY FOR ACTION
At Sunday's Annual Meeting the motion to form a Justice Team, to join the local Faith Climate Justice (FCJ)organization, and to hang its banner outside First United Church was passed.
FCJ is a local organization of faith groups, dedicated to furthering Climate Justice.
So now it is time to form a Justice Team. If you are concerned about the Climate Emergency, about a just recovery from the COVID-19 pandemic and are willing to be active in this area for our church, please contact either Shirley Irish or the Reverend Harry Disher. We need to put action to our words.
Shirley Irish
(b) STEWARDSHIP/FINANCE :
The Special Envelopes for 2022 were voted on at the Annual Meeting and will be designated as follows: Easter to SHOW (Supportive Housing Of Waterloo) and Community Justice Initiatives; Thanksgiving to Vera's Place and Shalom Counselling Centre; Christmas to World Development and Relief.
We are again budgeting for a deficit in 2022 but are hopeful that we can, with your support, work to bring about a better outcome.
Thank You!
Nancy Lennox
(c) NEWS FROM THE TRANSITION TEAM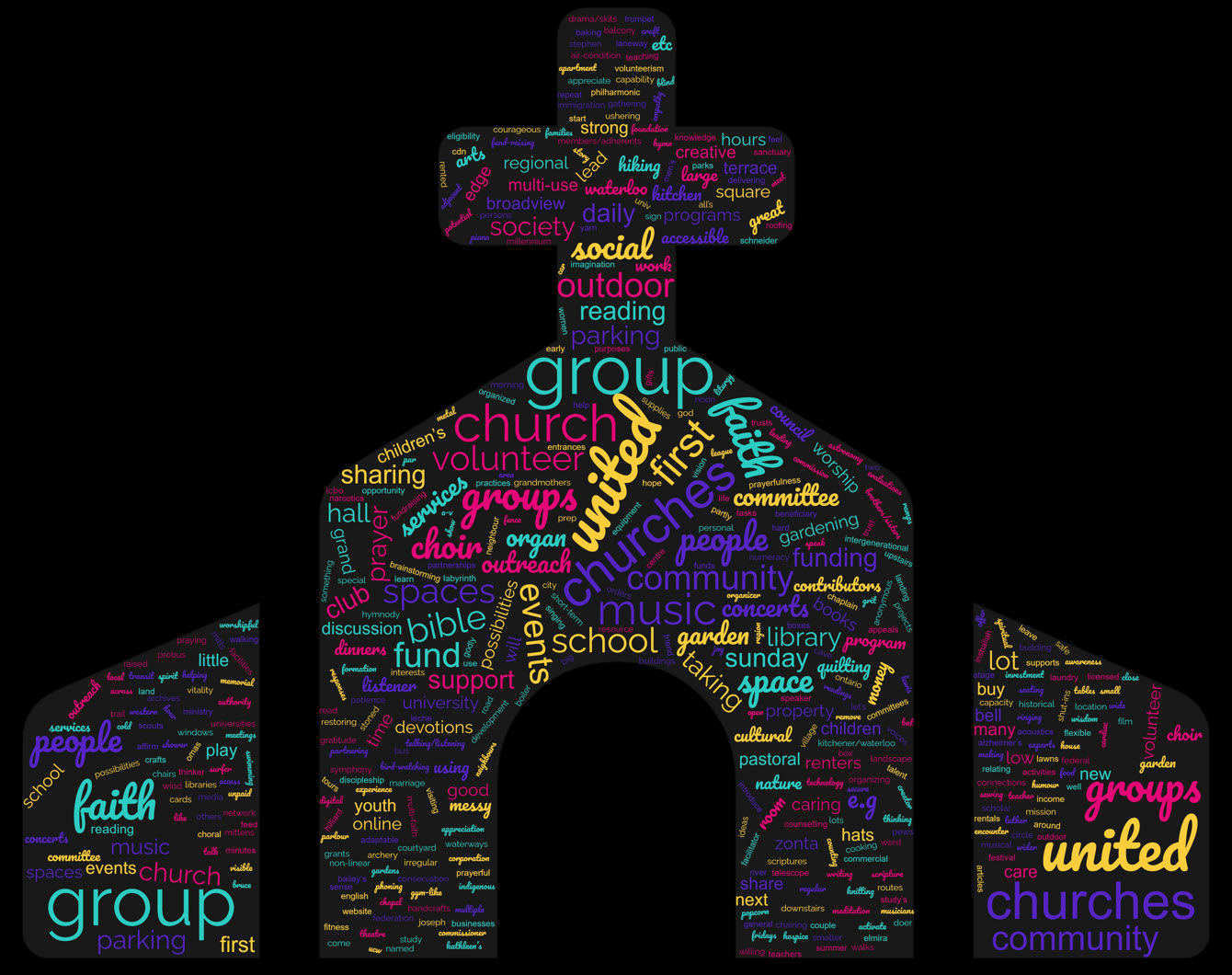 Remember last fall when we worked on our Core Values, and presented a video in which the four intersecting circles of Stewardship, Caring, Community and Celebration seemed to complete the picture of who we are as First United Church, Waterloo?
At the Asset Mapping workshops in January, the participants (40) listed our church assets (i.e., what we have) under the headings of Personal, Physical, Spiritual, Economic and Community Connections. Over 200 such assets were listed by small groups working for about ½ hour. Imagine if all our people had participated!! Even so, we can't list them all here or you would quit reading right now.
The listed assets can be fitted into our 4 overlapping circles of action, which were foundational to our Core Values vision. But more work needs to be done to move us forward to the place where we can look for new ministerial personnel. We need to know where the many assets listed are leading us—to know which dreams/programs/ministries to pursue—to tell our story while we enjoy one another's presence, have fun, work together, all the while trusting in God.
The church needs your participation—
Where are you willing to put your energy?
What is your ministry and mission?
What time, talent and-or treasure do you want to contribute?
(d) HEARTFELT THANK YOU TO STAFF
A thank you was given to the staff from Nola Mott of the Ministry & Personnel Committee, for all that they do for us in spite of all the challenges the pandemic has given them in carrying out their respective duties. We have a wonderful team at First United.
(e) THANK YOU TO BOARD CHAIRS, MEMBERS OF THE BOARD, AND COMMITTEE CHAIRS
A special thank you was given to the Board Chairs, Members of the Board and Committee Chairs. Your gifts of time, knowledge, creativity, and faith make a positive difference.
---
UNITED CHURCH WOMEN
Online UCW Meeting on Monday, March 14 at 1:30 PM (CLICK HERE) Jean Hoffman, Shirley Irish, Deb Jones, and Nancy Lennox are preparing the program for our time together. Feel free to come and experience being together on Zoom.
PEACE CRANES - The UCW is sponsoring a congregation-wide "event". During Lent we are encouraged to make origami peace cranes to decorate our sanctuary on Earth Day Sunday, April 24. This could be as simple as making a crane a day during the 40 days of Lent or just making four . . . in fact, if everyone (especially children and grandchildren) makes some cranes, our church will be filled with peace. And making cranes is simple! See for yourself (CLICK HERE)
You can pick up origami paper with printed instructions from the office (please call the office first: 519-745-8487) or pick up some paper when we return to in-person worship on March 13. Bring your cranes to church by Easter, April 17.
---
RUMMAGE/GARAGE AND PLANT SALE MAY 13TH AND 14TH 2022
Yes we are thinking of having a rummage sale this May.
As you can see we are thinking of making it a big event for a fundraiser for the church and the UCW.
The last time it was held in 2013 it was a great success.
We need church members that can help organize and run the different rooms at this event. It runs for 8 hours over 2 days, so many helpers are needed for short periods of time.
Hilliard Hall the usual rummage sale, Chapel Plant Sale, Labyrinth room larger items,
Parlour, vintage items, and jewelry etc.
Please contact Alice Bieman @ 519 634 8614 if you have ideas, need more information and to help with this event.
---
SMALL GROUPS
LET'S TALK ABOUT IT - A DISCUSSION ABOUT BROADVIEW MAGAZINE ARTICLES
We will meet on Wednesday, March 16th from 10:00 to 11:00 am. We are happy to welcome new participants. The Zoom information will be on the church website.
Walt
---
CHOIR AUXILIARY – NOON HOUR LUNCHES AND CONCERTS
First, we are shocked and saddened by the sudden death of Trish Chambers, a very dedicated member of our lunch team. Her generosity of time and gentle presence will be sorely missed.
Our team is very grateful that the Church Board increased our attendance capacity from 80 to 100 as of March 1st. The mandatory wearing of masks, showing proof of vaccination, preregistering, and sitting in designated seats remain until further notice. Special thanks to Greg Case for including photos of some of our performers on the church's website.
On Tuesday March 8th, we welcome Wendy Wagler on flute, Peter Shackleton on clarinet and Beth Ann de Sousa on piano, a very dynamic trio you won't want to miss.
Well, it's time for a great celebration for those of us who share Irish ancestry and those who wish they did! On Tuesday March 15th, The Clefs of Moher, a 7-piece band will certainly have us dancing and tapping our toes with Tim Moher (saxophones), Paul Stouffer (keyboard), Mark MacIntyre (bass), Mark Kelso (drums), Shane Guse (fiddle), Dave Hjin (guitar) and Spencer Murray (uilleann pipes & penny whistles/flutes). Free admission for wearing GREEN! (Just kidding!)
Remember to preregister and order lunch by NOON on Thursdays at firstunitedconcerts@gmail.com
Sharon Gowland, Concert Coordinator
---
THE BOOK CLUB
Saturday March 26, 2022 09:00 AM

Slaughterhouse-Five (or The Children's Crusade) by Kurt Vonnegut, Jr.
Slaughterhouse-Five is one of the world's great antiwar books. Centering on the infamous World War II firebombing of Dresden, the novel is the result of what Kurt Vonnegut described as a twenty-three-year struggle to write a book about what he had witnessed as an American prisoner of war. It combines historical fiction, science fiction, autobiography, and satire in an account of the life of Billy Pilgrim, a barber's son turned draftee turned optometrist turned alien abductee.
We are hoping that Wordsworth will have this book and well as April's selection A Man Called Ove by Fredrik Backman, Translated by Henning Koch in the near future
Greg
---
WORSHIP IN THE COMING WEEKS
Sunday March 13th , 2022 – Rev. Harry Disher – Lent II
At 10:30 am - Theme 'Mothering God'
Sunday March 20th , 2022 – Rev. Harry Disher – Lent III
At 10:30 am – Theme 'The Prodigal Father or Elder Brother'
You can always view the weekly service by going to the webpage each Sunday morning, or you can see previous live streams at firstunitedchurch.ca/live.
For Pastoral Care - Please contact Rev. Rose Ann Vita (647-763-0101) or the office (519-745-8487 ext. 201) or the Rev. Harry Disher (519-860-9198) for Pastoral Care Emergencies.
Interested in Membership? Or in knowing more about the United Church of Canada? Just contact Rev. Harry Disher (revharryd@gmail.com) or Rev. Rose Ann Vita (rose.ann.vita2@gmail.com). They will be happy to find a time to have a conversation with you.
---
WAYS TO DONATE TO FIRST UNITED
You can get your offering to the church office in several ways:
You can use PAR, or
E transfer to firstunitedchurch@rogers.com, or
Website donation to www.firstunitedchurch.ca, or
Send a cheque to First United Church, 16 William St. West, Waterloo ON N2L1J3, or
Drop a cheque into the mailbox located at the Entrance on William St. side.
**Just a reminder- credit card companies have a fee of around 3-5%. If you wish the church to get the full amount, then please add that % to your contribution. **
---
STEWARDSHIP/FINANCE
| | | | |
| --- | --- | --- | --- |
| | Month of February | February YTD | YTD Prior Year |
| General Fund Local | $12,452.93 | $27,341.93 | $24,837.38 |
| Wage Subsidy Grants | 0.00 | 0.00 | 3,060.36 |
| Other Operations | 8,823.17 | 15310.38 | 17,586.92 |
| Mission & Outreach | 3,005.00 | 6,375.00 | 6,063.00 |
| Total Income | $24,281.10 | $48,027.31 | $51,547.66 |
| Salaries & Benefits | 24,241.70 | 48,697.49 | 43,903.32 |
| Other Expenses | 6,412.17 | 13,062.73 | 16,788.65 |
| Mission & Outreach | 3,005.00 | 6,375.00 | 6,063.00 |
| Total Expenses | $33,658.87 | $68,135.22 | 66,754.97 |
| Excess Income/Expenses | ($9,377.77) | ($19,107.91} | ($15,207.31) |
| Capital Income | 650.84 | 3,741.68 | 102,346.68 |
| Capital Expenses | 49.82 | 101.74 | 106.931.07 |
| Capital Excess Income/Expenses | $601.02 | $3,639.94 | ($4,584.39) |
---
FRIDAY LETTER
The Friday Letter will continue but will not be produced every Friday. It will be produced every two weeks. In the table below are the dates for the Friday Letter. We are also including the dates when we would like to receive articles for these letters.
| | |
| --- | --- |
| DATE OF THE LETTER | DEADLINE FOR ARTICLES TO BE SUBMITTED |
| Friday March 18th, 2022 | Tuesday March 15th, 2022 – end of day |
| Friday April 1st, 2022 | Tuesday March 29th, 2022 – end of day |
| Friday April 15th, 2022 | Tuesday April 12th, 2022 – end of day |
| Friday April 29th, 2022 | Tuesday April 26th, 2011 – end of day |
NOTE: Please send Word documents only for contributions to the Friday Letter.
---
COMMUNITY CONNECTIONS
FAITH CLIMATE JUSTICE
World Water Day - Age 8-12. March 22 @4-5pm. Join members of the Eager Environmentalist program (as mentioned above) as they raise awareness for World Water Day. This virtual event will explore water's important value and how we can work better to protect this valuable resource. Register at wpl.ca
Carbon Fast for Lent - Lent is a period of reflection and fasting recognized by Christians. It takes place for the 40 days leading up to the celebration of Easter starting on March 2. Climate Stewards offers an opportunity to take part in lent with others. This Lent, they are leading a fast to draw near to God and deepen our care for the climate. Each week will feature a different theme designed to challenge us to take climate action. To sign up visit the website here.
Free Webinar Series called "God, Country, and Climate Change" hosted by the Center for Faith, Justice, and Global Engagement in Houghton College. Starting on Mar. 9. In addition to some of last year's favorites (Katharine Hayhoe, Bob Inglis, John Cook, and others), they have 8 new speakers including author Bill McKibben, Native American leader Terry LeBlanc, Kenyan activist Elizabeth Wathuti, theologian Steve Bouma-Prediger and more. To sign up visit the website here.
Planning is taking place right now for March 12 is a Day of Action for a Just Transition. Thomas Fraser (50by30) is looking for people to help organize. FCJ members are invited to consider if and how they can help out with the planning and organization of the event. A description of some roles and tasks can be found here: Organizer Toolkit.
"Films for the Planet" has many environmental films and resources to view at your leisure. To celebrate the lives of faith leaders, Thich Nhat Hanh (Buddhist) and Archbishop Desmond Tutu (Christian), this organization has selected a few films on the art of "interbeing" and science of inner peace you might enjoy..
STAYING CONNECTED! Communities and individuals within FCJ are part of many local initiatives. Be sure to send us any events at your faith community (book club, workshop, gardening, clean ups,...etc...). We would love to help spread the good things you are doing.
---
TRUTH BEFORE RECONCILIATION
WHAT IS THE TRUTH THAT PEOPLE NEED TO KNOW BEFORE THERE CAN BE RECONCILIATION?
Thursday, March 10 from 1:30 to 3:00 pm by Zoom
Join the Tri-Regions as we continue the important conversation about reconciliation with Leaders: Facilitator, Dr. Eileen Antone, a member of Oneida of the Thames First Nations Turtle Clan. During her academic career, the subject of her research, professional writing, teaching and field development has been Aboriginal knowledge and traditional ways of being. Dr Antone is a member of Oneida United Church. Elder, Rev. Dr. Grafton Antone, a member of Oneida of the Thames First Nations Wolf Clan and of Oneida United Church.
*click on a name highlighted for a bio

Register in advance for Truth Before Reconciliation
*Conference call available for those who do not have video

If you do not receive a Confirmation Email after registering or want more information, contact Thérèse Samuel at tsamuel@united-church.ca.

Registration costs covered by your Antler River Watershed, Horseshoe Falls and Western Ontario Waterways Regional Councils
---
BOCCIA BALL AT PARKMINISTER UNITED CHURCH
Several months ago, Parkminster applied for a 'New Horizons for Seniors' grant to set up a Boccia League for our community. At this point we are restricting the league to adults, but as we become established, we can look at teams of children and youth. COVID-19 has slowed the process down, however as our province prepares to re-pen, we are now able to offer our church as a location for an intramural Boccia League.
Boccia is a sport like lawn bowling and curling but is played indoors. It has roots in ancient Greece and Egypt. Players propel balls to land as close as possible to a white marker ball, known as the Jack. Two sides compete as individuals, pairs or as a team of three over a set number of ends (4 for individuals and pairs, and 6 for teams). Each side plays six balls (red or blue) each end. After each end, the team with the ball closest to the jack receives 1 point plus an additional point for each ball closer to the jack than their opponent's. Points are accumulated over the course of a match to find a winner.
We are just asking for you to consider getting a Boccia team (or teams) together for some good old-fashioned fun, Boccia style. Teams can be as small as 2 or as large as 4 per end. It is an indoor game with 4 lanes so we can accommodate several teams. We have also made allowances for those who need to sit to play as we have a ramp and some push sticks. This is a perfect way to come back to a group setting as COVID-19 has made it challenging to socialize. We recognize that some restrictions are still in place, so physical distancing and masking is required for the time being. Parkminster has also mandated that everyone who enters the building be fully vaccinated.
We are excited about this project, so we invite you to respond with your team(s) and a contact person for your group. We will let you know when we are ready to begin the friendly competition. Please reach out to me by email with your questions and contact names for your group(s). We would appreciate hearing from you by the middle of March, if you're interested or just curious. We hope to have the program up and running by early spring.
Bruce Mutton, Parkminster United Church – mutton.bruce@gmail.com
---
OUR CONDOLENCES
We would like to express our deepest sympathy to Sheena and her husband Rolf in the passing of Rolf's mother – Lore Grub. To Sheena and Rolf and their family we hold you in our hearts and prayers.
Together We Stand, but Apart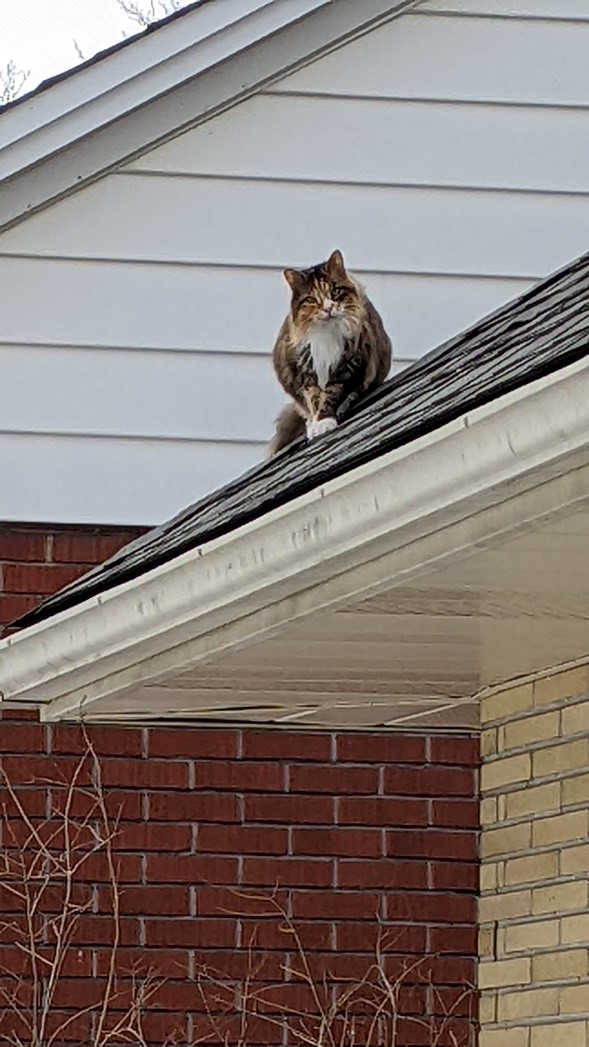 Well, if the squirrels can jump from the tree to the roof, why not me?
What new thing have you seen or heard about that you'd like to try? That folks at First might try.