Friday November 12, 2021
This wreath was placed at the cenotaph in honour of our veterans.
Dear First Friends,
"When you rise, set the clock of your heart, breathe in the rays of dawn, raise high the chalice of your life, taste the joy of being awake!
I read this quote by Macrina Wiederkehr earlier this week and it has stuck with me.
Something to start my days with!
What inspires your thoughts and actions?
Lynne
---
FIRST UNITED COVID RECOVERY
Things are changing rapidly as we move along the recovery path.
At First United we are slowly and carefully following the recommendations for returning to a full operation of our many ministries and programs.
Worship is happening in the building, small groups are starting to meet in person, many of our renters are back and our staff is starting to feel a little less lonely!
We continue to ask for verification of vaccine for attendance at our services. Please note that the verification we are asking for would include proof of exemption and cannot apply to those too young to be vaccinated. We continue to require wearing a mask inside the church building.
Sunday mornings we continue to use only the double doors off Waterloo Square parking lot and the William Street Hilliard Hall doors. For weekdays, the weekday entrance from our parking lot is the one you should use. The doors will remain locked most of the time, so ring the bell for the office to let you in.
Your Safe Start Team:
Cathie Stewart Savage (Chair); Ken Arnett; Jay Brooker; Sheena Curwood; Rev. Harry Disher; Joe Hipperson; Kathleen King Martin; Ron Taylor.
---
COFFEE AND TEA BEING SERVED
Coffee and tea are being offered by First United at the corner of William Street and King Street from about 9:30 to 10:25 on Sunday mornings as an outreach project. Shirley Irish and Marilyn Gerriets are serving. The general public and the congregation are welcome.
A 10 cup coffee maker and an electric kettle would come in handy and help with faster prepping coffee and tea. They're on our early Christmas list! Anyone have an extra, by any chance? Please contact Shirley or Marilyn.
Shirley and Marilyn
---
WORSHIP THIS SUNDAY
Sunday November 14th - We Are a Caring Community
To join the online service please CLICK HERE
The after-church virtual coffee time is being put on hiatus (last Sunday was November 7). If there is interest in the future, it can restart (even at a different time). Thanks to Muriel Omand-Naylor and Joanne MacPhail for all their work on this project.
Thanks
Greg
---
WEEKLY WORDS FROM THE PART-TIME MINISTER OF WORSHIP AND PASTORAL CARE
GREETINGS FROM THE MINISTER OF WORSHIP AND PASTORAL CARE
* * A NEW TWO-SESSION SMALL GROUP * *
Mondays, November 15 & 22 from 7 to 9 PM ~ VIBRANT FAITH (Zoom - CLICK HERE) We will watch a presentation on Courageous Conversations on how to facilitate a safe, attentive, and transformative space for conversations that mend and build bridges over relational gaps in the church, especially with people who may not see things the way we see them. We'll learn how to remain genuinely curious, remain within healthy tension, and remain kind to "the other." In other words, becoming Curious, Courageous, and Compassionate. Hope to engage with you!
Sunday, November 14 at 10:30 ~ WORSHIP: We are a Caring Community. The Gallery Choir will amplify our worship with hymns old and new (VU 509, MV 89, MV 191, MV 212) as we ponder how healing happens when we care for one another (James 5:13-16).
Sunday, November 14 at 4 PM on Zoom ~ HAPPY HOUR CHURCH (Zoom - CLICK HERE) This afternoon we'll explore how self-care is a source of healing, not only for ourselves, but for others, as well. We'll be celebrating communion, so you might want to have communion elements, such as bread and fruit of the vine, or comparable substances.
Tuesday, November 16 at 2 PM ~ CARING COMMUNITY (In Person). This informal group gathers to support one another by sharing stories and thoughts derived from life experiences. This month we'll be meeting in the church sanctuary to insure ample space and ventilation for safe social distancing. Our theme is inspired by campfire conversations.
Tuesday, November 23 at 2 PM ~ PASTORAL CARE TEAM ~ (Zoom - CLICK HERE) Purpose of the meeting is to prepare for checking in with congregation members by phone prior to Christmas.
Tuesday, November 30 at 7 PM ~ BIRTHDAY CELEBRATION ~ (Zoom - CLICK HERE) November Birthday People, let's get together to share one of our birthday stories. These gatherings have been fun, and many found it a wonderful way to get to know more about one another. If you have a birthday this month, please let me know. Thanks!
Christmas Gifts: Here is a list of children's books you may want to browse. (CLICK HERE)
My Office Hours: I will be at church all the Tuesdays in November, except for November 23rd. Instead, I will be at church on Monday, November 22nd. Please contact me if you would like to drop by or have me visit you. And know that you are welcome to call or email at other times if you would like to talk with me.
Remember you are blessed to be a blessing!
The Rev. Rose Ann Vita
(647 763 0101 and rose.ann.vita2@gmail.com)
---
BOARD REPORT
Our church treasurer Andy Yuan made a presentation of the finances over the last eight years showing a steady decline in givings and giving units (family and individuals). A projected 2021 shortfall in income for the year of $50,000- $60,000 is expected. A small, combined ad-hoc board/finance/congregation sub-committee will work on the budget, taking into account the current financial conditions while projecting post COVID realities.
Anyone interested in being part of this important group can contact Rick Heemskerk by telephone or text at 519-404-8817 or email rkmskrk@uwaterloo.ca. Much caring, many brains and many ideas make lighter work!
Again, additional donations will be gratefully received.
It is expected that the refugee families that we are holding funds for will be arriving sometime in 2022. Over the summer it was necessary to borrow a portion of these funds to cover our costs. Now we are working to replace them, so they are available when they are needed. We are fortunate that our rental income is expanding to increase our coffers. God works in mysterious ways!
Our annual meeting has been set for Sunday February 27, 2022. Whether it is in-person or online has not been determined yet, but we will follow provincial guidelines.
Rick Heemskerk
Acting Board chair
---
BOOK CLUB
Click here for more information and a link to join us!
Our next book club selection is Clouds Over Okotoks by H. Lee Disher. We'll be discussing on Saturday November 13, 2021, at 9:00 AM
Clouds Over Okotoks explores one young man's path in pursuit of his inmost desire. Family, friends, the people of Okotoks, the rodeo community, the province of Alberta, geography, and religion all have a share in Tyler Stedman's determination and spirit, either in supportive favor or with precaution and fear. These are ordinary people leading what seems to be ordinary lives, but the extraordinary and that which is special and precious happens. Clouds Over Okotoks is a celebration of the spirit of the Canadian West.
Books are available at First United Church for $20 (also available online at Amazon but at a
higher cost).
Greg Case
---
BIDDING AT FIRST 2021 – OUR ONLINE AUCTION NOVEMBER 20 – 28
The media is telling us to get our shopping done now because there will be fewer items in the stores this year.
So, here's a better deal!
No instore shopping – curbside pickup – and a wide selection of many options for your consideration. And we won't be sold out until November 28th!
We'll send an email to you midweek next week with the web address so you will have two or three days to preview the items to help you decide where your bidding will start.
Please tell your friends, neighbours and family to get ready to bid – we will want you to share the email far and wide.
Any questions contact Joan Westcott at biddingatfirst@gmail.com
---
FAITH IN ACTION – SHARE THE WARMTH
Warm hats, scarves, mitts, and socks,
Handmade and from the store,
Brand new and gently used,
Soon to be needed
By you!
Let's remember to share the warmth with our Waterloo community!
Knit or crochet something cozy,
Donate extra warm things of yours,
Buy something new,
Make a donation of wool to be knit up.
Make a monetary donation to help pay for wool/ buy new items.
Please drop off items in the bin on the front porch at Lynne and Kirk's house- 210 Stanley Dr. Articles will be bagged and hung on fence by the back laneway at the church.
Lynne
---
FREE NOON HOUR CONCERTS – CHOIR AUXILIARY
Rumour has it that our attendance capacity will be increasing soon. HOORAY! So please continue to invite your friends, families, Probus, wine club members et al!!! The following Protocols will still be in place:
Pre-register foreachconcert by NOON Friday at firstunitedconcerts@gmail.com
Show proof of double vaccinations upon entering
Complete the self-health check for covid symptoms (list at attendance table)
Wear a mask at all times except when enjoying lunch
Avoid socializing inside the church
Choose a seat indicated by a cushion to maintain social distancing
Looking ahead, on Tuesday Nov. 16th, the amazing KW Woodwind Quintet will entertain us, featuring Wendy Wagler on flute, Peter Shackleton on clarinet, Sarah Cardwell on oboe, Trevor Wagler on French Horn and Heather Carruthers on bassoon. The remaining two concerts will feature the very popular Peter Shackleton and Stephanie Mara on piano, two WLU Faculty of Music members, and then on Tuesday, Nov. 30th, our own Church Bell Choir will perform Christmas as well as other favourites, directed by Kathleen King Martin.
Musicians' fees have increased so we've had to raise our lunch prices.
whole sandwich (egg, salmon, or diced ham on whole wheat) $6
half sandwich $3
square $2 (raspberry macaroon, Nanaimo, or macaroon madness)
coffee or tea $2
water & concert FREE
EXACT CHANGE ONLY PLEASE
The FREE concerts run from 12:15 – 12:45 with pre-ordered lunches available for pick up in Hilliard Hall from 11:45. To find the complete schedule, visit www.firstunitedchurch.ca under EVENTS.
Many thanks to the volunteers for all they do to make this series happen.
Sharon Gowland
---
OUTREACH REPORT
FOOD DRIVE
Thank you to those who donated to the Fall Food Drive. Between the early drop offs, Saturday and Sunday we have the equivalent of 7 or 8 milk crates full of donations! And we know many of you have sent monetary donations directly to the Waterloo Region Food Bank https://www.thefoodbank.ca/ Your continued support is very appreciated!
FRIDAYS AT FIRST
We opened our program for 2021-2022 Nov. 5. We are starting this year as a food only program with eat-in for those with vaccine certificates and takeout for anyone who would prefer takeout. This first week had 11 dining in, and 12 meals taken out.
The total of 23 is very close to what we served after the lockdown last season so it's a very good start!
Those who came were very grateful and I even received an email from one of the guests with words of thanks and encouragement as we slowly move towards more normal times.
The program this year is more expensive than ever to run. Food costs have gone way up, and we are now needing to purchase take out containers as well. We have used up most of our operating funds and will be accessing the reserve fund that we set up many years ago. We will also rely more on donations of food for meal planning.
The planning and co-ordination have changed too. We are trying to keep our volunteers safer by working in different shifts and are using Wednesday afternoons to do some of the prep work so that the Friday prep time can go faster and smoother. Our prep workers on Friday are ideally done and on their way before the servers arrive, keeping the number of people in contact with each other lower.
Doors are not opening until shortly before we serve, and we are not allowing for any evening programming at this time. Our guests are asked to go directly to their tables and stay there so that there is less travel within the room, and less contact with each other. Tables are at least 6 feet apart with two people sitting at the ends. If there are more than two people in a group, we are moving two tables together allowing more distance from the large group for everyone else.
We are very grateful for the support of this congregation and are always open to having you join us, either as a volunteer or as a guest! All are welcome!
Cathie Stewart Savage, Coordinator
WHITE GIFT SUNDAY – DECEMBER 5, 2021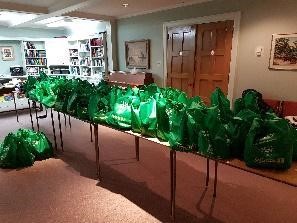 The tradition of White Gift Sunday dates back to 1904. The gifts were to be wrapped in white paper so that they would all look the same and no one would know the cost of the gift.
In today's tradition, gifts are received during the church service on the second Sunday of Advent and distributed to those in the community who are in need of them.
This year we have chosen our Friday at First guests to be the recipients of our gifts.
We are asking that each family take a bag if they are at the church, or just use one from home to collect some items that our guests might like. The idea is to give something a bit extra, something that people living with low income might not get for themselves. It will be a little like opening a stocking Christmas morning for them.
The bags and lists will be available at the church starting November 11 and should be returned by December 5 so they can be recognized during the service.
I am sure your gifts will be greatly appreciated! In past years when we have done this the guests take great joy in opening their bags and eagerly share their bounty with each other and even select items to give to their own families.
White Gift Suggestion List for Fridays at First Guests:
Warm Gloves or Mitts
Lip Balm
Combs
Nail Clippers
Hand Cream
Candy
Chocolate
Hot Pockets
Gift Cards e.g., Tim Hortons or MacDonald's Gift Cards
Unused puzzle books and Pencils, Notebook and Pens
Adult colouring books and pencil crayons
A Guideline For Gift Giving:
Something they want, Something they need, Something to wear, Something to read
HOLIDAY MEAL
This will be our 25th Annual (almost!) Holiday Meal. We missed last year due to the pandemic.
We are still under some restrictions, and we do not want to put anyone at undue risk, so we have modified the way we are doing this for 2021. We hope to get back to a full celebration for next year!
Our meal will be offered to the community from 12:00 to 1:30. It will be a takeout format and guests will walk through the hall and pick up a prepackaged meal to go.
We are asking the congregation to support us in a few different ways.
DONATIONS (to be at the church by Sunday December 19):
We would like donations of store-bought cookies for the desserts. (Unfortunately, we cannot handle larger desserts or home cooking at this time)
We are asking for individual juice boxes to go in the dinner bags.
We can always accept cash donations in lieu of food donations, with any donations above our costs going into the Honsberger Outreach Fund.
VOLUNTEER NEEDS
Monday Dec. 20 10:00 am 3-4 people – Packaging dessert boxes
Wednesday Dec. 22 10:00 am 5-6 people – Preparing hash brown casseroles
Friday Dec. 24 10:00 am 2-3 people – Packaging coleslaw and buns
Monday Dec. 27 11:30-1:30 12-14 people – Various opportunities including preparing dinner bags, passing them out and directing the guests through
Monday Dec. 27 12:15-until done 2-4 people – Cleanup including dishes and serving areas.
If you would like to volunteer, please email Cathie at css2303@gmail.com
Marilyn Gerriets, Dave Parrott, Eric and Kathy Saunders, Cathie Stewart Savage
---
TRANSITION TEAM REPORT
Thank you to all who provided feedback on the Core Values presentation. We are proceeding to post this video on our website to highlight what we, at First United, hold to be fundamental in living out our faith.
From the core values of TRUST, LOVE and FAITH, we value INCLUSION and AFFIRMATION. We strive to extend FORGIVENESS, GRACE, RESPECT and KINDNESS in what we do and who we meet.
Some of you have been asking "What`s next?"
We are now starting an "Asset Mapping" process, which is where we document our existing and potential resources to realize our faith story.
What time, talents, passions and energies do we have?
What institutions, individuals and associations exist within our community that can serve as positive resources?
What partnerships can we forge to enhance and grow our vision?
What needs and opportunities can we support in our community?
As always, we will need your help to be successful in this endeavour and look forward to speaking to many of you personally in the weeks ahead.
With gratitude,
Your Transition Team:
Cathie Stewart Savage (Chair), Mary Joan Brooker, Greg Case, Shirley Irish, Debora Smith, and the Rev. Harry Disher
---
SMALL GROUPS
LET'S TALK ABOUT IT - Broadview magazine discussion

December 15 from 10 to 11 am.
In October we talked about the October/November issue so will be discussing the December issue at this next meeting. We are happy to welcome new participants. The Zoom information will be on the website.
Walt
---
WORSHIP IN COMING WEEKS
Sunday November 21st – Theme: "A Mix of Sun and Clouds"
You can always view the weekly service by going to the webpage each Sunday morning, or you can see previous live streams at firstunitedchurch.ca/live.
If you would be interested in leading a worship service or in participating in some way please let me know at gregjcase@gmail.com.
For Pastoral Care needs please email the church (office@firstunitedchurch.ca). For our Minister of Pastoral Care call Rose Ann Vita 647-763-0101 (cell) or rose.ann.vita2@gmail.com (email).
Interested in Membership? Or in knowing more about the United Church of Canada? Just contact Rev. Harry Disher (revharryd@gmail.com) or Rev. Rose Ann Vita (rose.ann.vita2@gmail.com). They will be happy to find a time to have a conversation with you.
---
WAYS TO DONATE TO FIRST UNITED
You can get your offering to the church office in several ways:
You can use PAR, or
E transfer to firstunitedchurch@rogers.com, or
Website donation to www.firstunitedchurch.ca, or
Send a cheque to First United Church, 16 William St. West, Waterloo ON N2L1J3, or
Drop a cheque into the mailbox located at the Entrance on William St. side.
**Just a reminder- credit card companies have a fee of around 3-5%. If you wish the church to get the full amount, then please add that % to your contribution. **
---
STEWARDSHIP/FINANCE
| | | | |
| --- | --- | --- | --- |
| | Month of October | October YTD | YTD Prior Year |
| General Fund Local | $19,042.00 | $160,868.23 | $157,199.66 |
| Wage Subsidy Grants | 932.25 | 9,815.18 | 24,509.85 |
| Other Operations | 8,980.13 | 72,289.55 | 53,635.53 |
| Mission & Outreach | 3,563.00 | 36,126.12 | 39,540.00 |
| Total Income | $32,517.38 | $279,099.08 | $274,885.04 |
| Salaries & Benefits | 24,511.97 | 235,188.02 | 191,283.18 |
| Other Expenses | 6,781.48 | 86,462.05 | 78,455.81 |
| Mission & Outreach | 3,563.00 | 36,126.12 | 39,540.00 |
| Total Expenses | $34,856.45 | $357,776.12 | 309,278.99 |
| Excess Income/Expenses | $(2,339.07) | $(78,677.11) | $(34,393.95) |
| Capital Income | 670.84 | 158,143.06 | 50,593.22 |
| Capital Expenses | 58.20 | 147,259.04 | 54,562.07 |
| Capital Excess Income/Expenses | $612.64 | $10,883.42 | ($3968.85) |
RESILIENCY FUND
Congratulations to all who have been making contributions towards the repayment of the loan for the mold abatement. The contributions to date in 2021 will cover the remaining loan payments for 2021! So, if you were planning to make a further contribution to the Resiliency Fund in 2021 please consider making that extra contribution towards regular givings as our operating funds are in need of every dollar we can give.
Then starting in January, we hope we will see the same financial support for the Resiliency Fund in 2022 – year four of our five year program.
Thanks for your support! A pat on the back of every contributor!
Joan Westcott
---
FRIDAY LETTER
The Friday Letter will continue this Fall but will not be produced every Friday. It will be produced every two weeks. In the table below are the dates for October and November when the Friday Letter will be appearing in your mailbox. We are also including the dates when we would like to receive articles for these letters.
| | |
| --- | --- |
| DATE OF THE LETTER | DEADLINE FOR ARTICLES TO BE SUBMITTED |
| Friday November 26th, 2021 | Tuesday November 23rd end of day |
| Friday December 10th, 2021 | Tuesday December 7th end of day |
---
Together We Stand, but Apart