Thursday December 23, 2021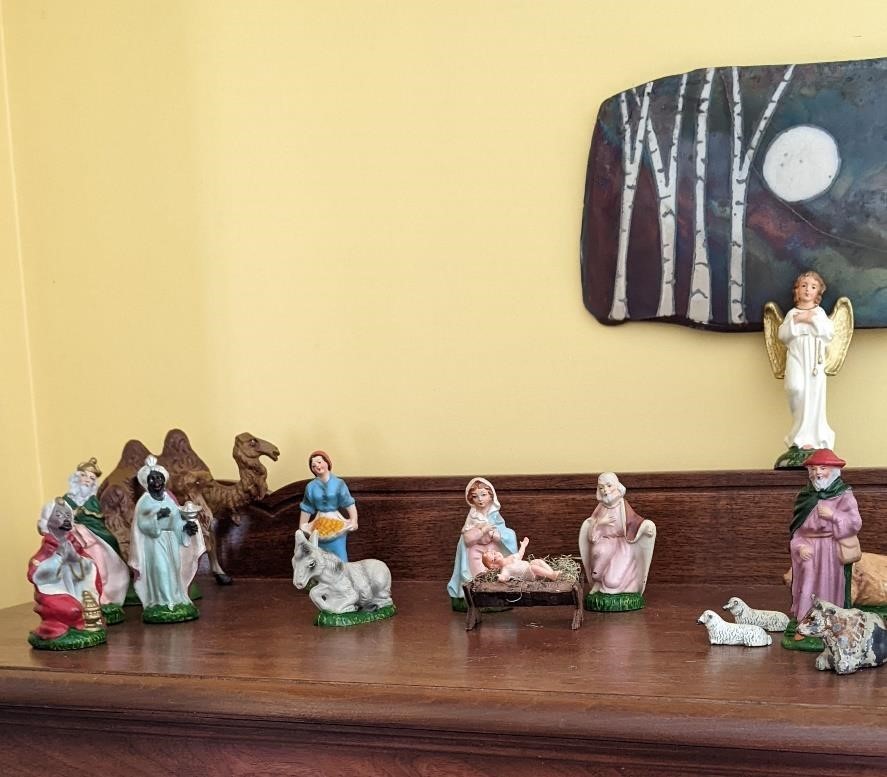 Dear Friends,
Here's today's earworm- "I've got the joy, joy, joy, joy down in my heart, (where?) down in my heart, down in my heart. (Repeat) Down in my heart to stay."
"I've got the peace that passes understanding down in my heart..."
" I've got the love of Jesus down in my heart..."
Whoops, what about hope from the first Sunday of Advent?
This Christmas, may we hold hope while we dig deep to help joy, peace and love bubble up in our lives and the lives of others.
Lynne
---
COFFEE AND TEA BEING SERVED
Sunday Coffee and Tea will once again be served at the corner of King and William when the weather is a little warmer.
Shirley and Marilyn
---
First United, Waterloo, has decided to suspend in-person worship effective immediately.
The reason for the suspension of in-person worship is to ensure the well-being of attendees from catching the air-borne COVID-19 virus, given the increased occurrence of the omicron strain in our region. It was a difficult decision knowing how important Christmas Services and opportunities to gather in-person are to many members but this new surge of the virulent virus needed to be heeded.
All services will be available online. Please CLICK HERE to join a service.
---
WORSHIP THIS WEEK - CHRISTMAS EVE AT FIRST
Join us online Friday December 24th for our Christmas Eve Service at 6:30 PM. It will have something for everyone of all ages with Music, Stories and Scripture. To join the service please CLICK HERE
CHRISTMAS EVE CANDLELIGHT COMMUNION SERVICE ~ Friday, December 24 at 10 PM on Zoom (CLICK HERE). We'll be celebrating this late-night service from the safety and solitude of our homes. It will be a reflective and solemn time and you may want to have some communion elements ("bread" and "wine") and a candle handy. You may also want to sign onto Zoom at 9:30 PM for a social time before we begin worshipping together.
Sunday December 26th – at 10:30 am – Christmas 1
To join this service please CLICK HERE
---
WORDS FROM THE PART-TIME MINISTER OF WORSHIP AND PASTORAL CARE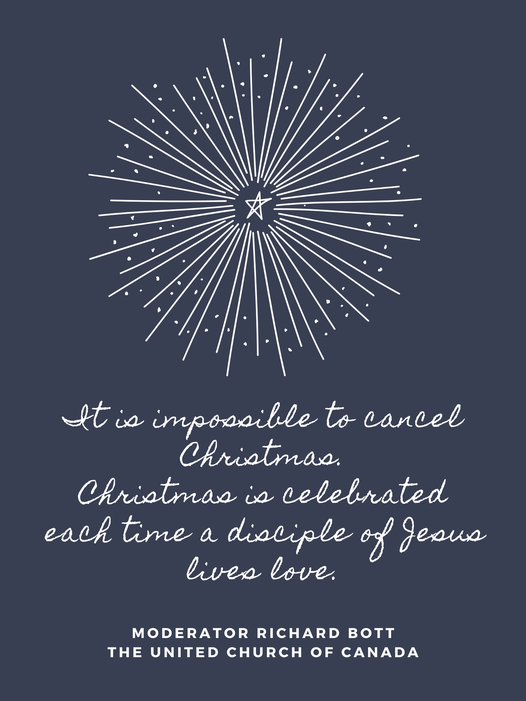 LOVE IS A COURAGEOUS ACT In my sermon last Sunday I tried to express that each one of us brings the life of Christ into the world by our courageous acts of love. A picture of a pregnant man and women attempted to illustrate this untraditional concept. But from a question I received, ("Why the pregnant man?"), I may have missed the mark! So let me try again.
The life of Christ comes into the world every time we live lives of courageous love. We are "Christ-bearers", and it is we --- yes, you and me --- who make the love of God "incarnate" (lived out in human flesh) when we act courageously in our living. It is as if we "birthed" God's love into the world.
If I may, let me quote from The Heart of Christianity by my favourite theologian, Marcus Borg:
"What is it about Christianity that is deeper than any particular set of Christian ideas and beliefs? And what is it about Christianity that reaches us at our "heart" level—at a level of ourselves deeper than the intellect? The heart, this deeper level of the self, is the "place" of transformation. What is it about Christianity that gives it power to transform people at the "heart" level?" (pp. 11-12)
What is it? Living Christ-like lives is what transforms the world. We are called and blessed to live our lives as Jesus lived his life. He is a model of living courageous acts of radical loving-kindness. And we are to do the same.
You are the one who keeps Christ in Christmas. May it be so!
CHRISTMAS EVE CANDLELIGHT COMMUNION SERVICE ~ Friday, December 24 at 10 PM on Zoom (CLICK HERE). We'll be celebrating this late-night service from the safety and solitude of our homes. It will be a reflective and solemn time and you may want to have some communion elements ("bread" and "wine") and a candle handy. You may also want to sign onto Zoom at 9:30 PM for a social time before we begin worshipping together.
PASTORAL CARE: I will be away from church work from December 27 until January 14. During this time, please contact the office (519-745-8487) or the Rev. Harry Disher (519-860-9198) for Pastoral Care Emergencies. At all other times, if you would like to talk with me or would like a visit, especially on Tuesdays or the Sundays that I lead worship (January 24 and 30), just let me know. I enjoy our conversations and connections.
Remember you are blessed to be a blessing!
The Rev. Rose Ann Vita
(647 763 0101 and rose.ann.vita2@gmail.com)
---
OUTREACH REPORT
The Holiday Meal is still on! We are using extra precautions to reduce the risks to both volunteers and guests. It will be very bare bones this year without decorations and take out meals only, but we will still have a great meal to serve.
Thank you to those who have already volunteered at one of our preparation times and to those who will be there on Dec. 27.
We look forward to next year when we can all come together again for this celebration of community.
Marilyn Gerriets, Dave Parrott, Eric and Kathy Saunders, Cathie Stewart Savage
Holiday Meal Preparation! Yummy cookies all ready to go!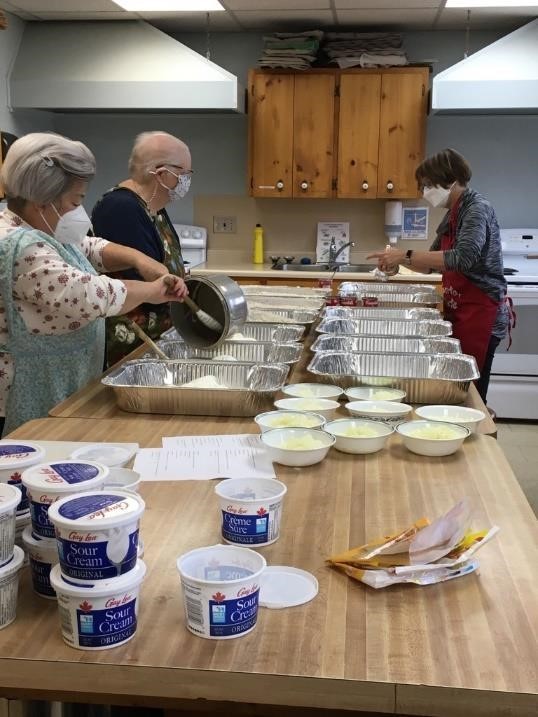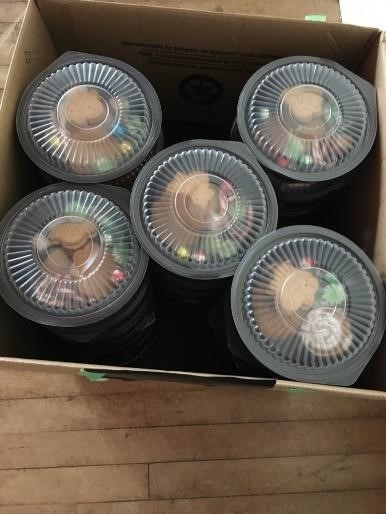 ---
A NOTE TO OUR FRIENDS IN LONGTERM CARE HOMES, RETIREMENT HOMES OR CONFINED IN YOUR OWN HOME
We want you to know that we are thinking of you at this Special Time of year, and we want to send you our BEST WISHES from the UCW and Pastoral Care Committee at First United CHURCH. We will not be delivering poinsettias this year, but we want to tell you that in the spring you can look forward to a special floral remembrance from us. We hope you are keeping well during these difficult times.

Jean Hoffman
---
CHRISTMAS TURKEY TROT II 2021 FINAL REPORT
On Saturday we packaged 138 dinners which were distributed to over 60 households.
I appreciate all the people involved in making it a successful event.
Pauline Williams who shared the task of receiving all the orders,
Lynne Blake -Dickson, Joanne MacPhail and Sheena Curwood who processed all the communications,
Edith Coyle, Karen Fries, Jean Hoffmann, Joan Westcott who helped package the dinners,
Jan and Jud Maillette who managed the pick-ups
Angus and staff at Deli Works who prepared all the food and assisted in the packaging process
Everyone who supported the invitation to place an order.
My most sincere thanks to every one of you!!
Muriel Omand-Naylor
---
CHOIR AUXILIARY – NOON HOUR CONCERTS
NO LUNCH SALES = NO CONCERTS
Recent Covid Protocols now prohibit all food and drink at concert venues, and as you know, proceeds from the sale of our lunches pay for our musicians. Because we receive co-sponsorship from the Musicians' Union for our larger ensembles, we're not allowed to charge admission, one of the Union's stipulations. However, we're in the process of coming up with yet another plan to continue this very important outreach program.
Special thanks to all the volunteers who made our fall season such a success: Barb Blain, Adelle Blain, Jean Hoffman, Shirley Irish, Judy Berthin, Trish Chambers, Jana Heemskerk, Rick Heemskerk, Joe Hipperson, Pauline Williams and Mary Wybrow. Also, much appreciated was the assistance from First's Staff: Sheena Curwood, Harold Arnett, Jay Brooker and Craig Lennox, as well as the support from the Church Board, Rev. Harry Disher and Rev. Rose Ann Vita.
Please refer to the church's website for further updates: www.firstunitedchurch.ca
Wishing you and your loved ones a healthy and very Merry Christmas.
Sharon Gowland, Concert Co-ordinator
---
SMALL GROUPS
LET'S TALK ABOUT IT - Broadview magazine discussion

January 19th from 10 to 11 am.
We are happy to welcome new participants. The Zoom information will be on the website.
Walt
---
TRANSITION TEAM
WHO WANTS TO JOIN OUR TRANSITION TEAM?
We have a busy year ahead and need some new members to join our team! This is your opportunity to add your time and talent to this important, short-term initiative.
We would love your input! For more information or to say "Yes – Count Me In!", please contact Debora Smith at 519-588-3436 or deborasmith396@gmail.com
A congregational exercise in ASSET MAPPING
Change of Date!
Sunday, February 6, 2022, 11:45 a.m. – 1:15 p.m.
In addition to valuing and considering our building and property as an asset (not an albatross), we will also consider:
People assets of talent and ability
Community connection assets
Financial assets
Spiritual assets
By freeing our imaginations, we will endeavor to create several visions for future engagements in ministry and mission that our congregation can undertake and feel a sense of God's calling and Spirit active among us.
We will use this information to establish a future vision for First by mid-May (or sooner), which will form the Living Faith Story we need to create a job description for new ministerial leadership. Our goal is to have a Search team established by early summer 2022.
PLEASE JOIN IN … YOUR VOICE, YOUR INPUT MATTERS!
The hope is to have both in person and Zoom though the exercise works best in person because people get to change groups and move around.. The date was changed due to the current shut-down regulations.
We are still looking for volunteers to join our Transition Team to complete this important process. Please contact Cathie Stewart Savage (css2303@gmail.com) or Rev. Harry Disher (519-860-9198) to help create a bold future for First!
Thank you from your Transition Team,
Cathie, Greg, Shirley, Mary Joan, Harry, Debora, and Carol Stephenson (Regional Representative)
---
PRAYING WITH SCRIPTURE
The Praying with Scripture Group usually meets on Tuesdays and Thursdays at 9:00 am via Zoom each week. We have decided that the Tuesday morning group will continue to meet through December and on into 2022. But the Thursday morning group will take a short break and begin again on Thursday January 6, 2022.
Maybe you'd like to try a taste of being part of this group in 2022! We are happy to welcome new folks any time.
Want to hear more about it. I'd enjoy chatting with you.
Lynne Blake-Dickson
lynneblakedickson@gmail.com
(519-744-5012)
---
BOOK CLUB
Next Book Club Selection - "Klara and the Sun" by Nobel Laureate Kazuo Ishiguro
Saturday January 8th, 2022, at 9:00 AM
Click here to find out how to join!
"The Sun always has ways to reach us."

From her place in the store, Klara, an Artificial Friend with outstanding observational qualities, watches carefully the behaviour of those who come in to browse, and of those who pass in the street outside. She remains hopeful a customer will soon choose her, but when the possibility emerges that her circumstances may change forever, Klara is warned not to invest too much in the promises of humans.

In Klara and the Sun, Kazuo Ishiguro looks at our rapidly changing modern world through the eyes of an unforgettable narrator to explore a fundamental question: what does it mean to love?
Words Worth Books will have some copies in (at a 20% discount). Please consider supporting our local Bookshop.
Greg Case
---

Friday December 24

6:30 pm – Christmas Eve Service

Worship Online

10:00 pm – Christmas Eve Service

Worship and Communion via Zoom.

Sunday December 26

10:30 am – Christmas I

Worship Online

Monday December 27

Noon – 1:30 pm – Community Holiday Meal

Sunday January 2, 2022

10:30 am – Pre-Epiphany

Worship Online
If you are participating in worship via Zoom for the Christmas Eve service at 10:00 pm, we will be celebrating communion and you will need to have your own bread/gluten-free alternative and wine/juice prepared and ready wherever you are viewing worship.
You can always view the weekly service by going to the webpage each Sunday morning, or you can see previous live streams at firstunitedchurch.ca/live.
If you would be interested in leading a worship service or in participating in some way please let me know at gregjcase@gmail.com.
For Pastoral Care - Rev. Rose Ann Vita will be away from December 27 until January 14. During this time, please contact the office (519-745-8487) or the Rev. Harry Disher (519-860-9198) for Pastoral Care Emergencies.
Interested in Membership? Or in knowing more about the United Church of Canada? Just contact Rev. Harry Disher (revharryd@gmail.com) or Rev. Rose Ann Vita (rose.ann.vita2@gmail.com). They will be happy to find a time to have a conversation with you.
---
WAYS TO DONATE TO FIRST UNITED
You can get your offering to the church office in several ways:
You can use PAR, or
E transfer to firstunitedchurch@rogers.com, or
Website donation to www.firstunitedchurch.ca, or
Send a cheque to First United Church, 16 William St. West, Waterloo ON N2L1J3, or
Drop a cheque into the mailbox located at the Entrance on William St. side.
**Just a reminder- credit card companies have a fee of around 3-5%. If you wish the church to get the full amount, then please add that % to your contribution. **
---
STEWARDSHIP/FINANCE
| | | | |
| --- | --- | --- | --- |
| | Month of November | November YTD | YTD Prior Year |
| General Fund Local | $18,866.56 | $179,734.79 | $175,794.54 |
| Wage Subsidy Grants | 0.00 | 9,815.18 | 29,464.67 |
| Other Operations | 12,837.06 | 85,126.61 | 64,747.67 |
| Mission & Outreach | 4,394.00 | 40,520.12 | 43,501.00 |
| Total Income | $36,097.62 | $315,196.70 | $313,507.88 |
| Salaries & Benefits | 24,723.30 | 259,911.32 | 212,761.60 |
| Other Expenses | 6,791.21 | 93,253.26 | 83,858.90 |
| Mission & Outreach | 4,394.00 | 40,520.12 | 43,501.00 |
| Total Expenses | $35,908.51 | $393,684.70 | 340,121.50 |
| Excess Income/Expenses | $189.11 | $(78,488.00) | $(26,612.62) |
| Capital Income | 4,291.20 | 162,434.26 | 51,153.22 |
| Capital Expenses | 13,059.01 | 160,318.65 | 58,800.48 |
| Capital Excess Income/Expenses | $(8,767.81) | $2,115.61 | $(7,647.26) |
Reminder: The Christmas envelope collection is dedicated to the World Development and Relief part of the Mission and Service Fund, which is used by the United Church for immediate support in times of crises and disasters around the world.
Thank You!
Nancy Lennox
---
FRIDAY LETTER
The Friday Letter will continue but will not be produced every Friday. It will be produced every two weeks. In the table below are the dates for the Friday Letter. We are also including the dates when we would like to receive articles for these letters
| | |
| --- | --- |
| DATE OF THE LETTER | DEADLINE FOR ARTICLES TO BE SUBMITTED |
| Friday January 7th, 2022 | Tuesday January 4th end of day |
| Friday January 21st, 2022 | Tuesday January 18th, end of day |
| Friday February 4th, 2022 | Tuesday February 1st, end of day |
---
CHURCH OFFERING ENVELOPES FOR 2022
In preparation for the coming year. Please contact the office 519-745-8487 Ext201 or office@firstunitedchurch.ca as soon as possible if you would like 2022 Offering Envelopes.
Thank you
Sheena
WE MADE A LIST. PLEASE CHECK IT TWICE!
Donations to First United that are to be included in your 2021 tax receipt must be received in the office on or before close of Business on December 29, 2021.
PREPARATION OF THE ANNUAL REPORT
All groups and committees preparing information for the Annual Meeting on February 21, 2022, are reminded of the following timelines:
Tuesday January 11, 2022 All written reports are to be sent electronically to the church office. office@firstunitedchurch.ca
Please submit Financial reports to treasurer, Andy Yuan lyxyuan@yahoo.com
---
CHURCH OFFICE CHRISTMAS HOURS
The Church Office will be CLOSED:
Friday, Dec 24
Monday, Dec. 27
Tuesday, Dec 28
Friday, December 31, 2021
Monday, January 3, 2022
The Church Office will be OPEN:
Thursday, Dec 23 Regular Hours
Wednesday, December 29 Regular Hours
Thursday, December 30 Regular Hours
Tuesday, January 4 Regular Hours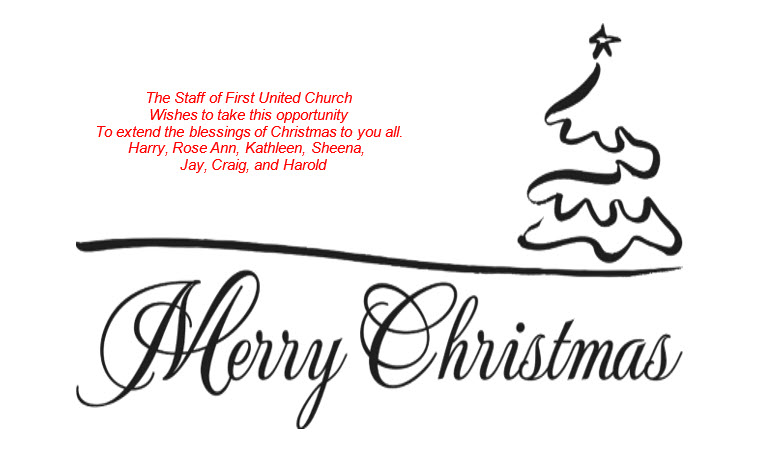 ---
Together We Stand, but Apart