Friday September 17, 2021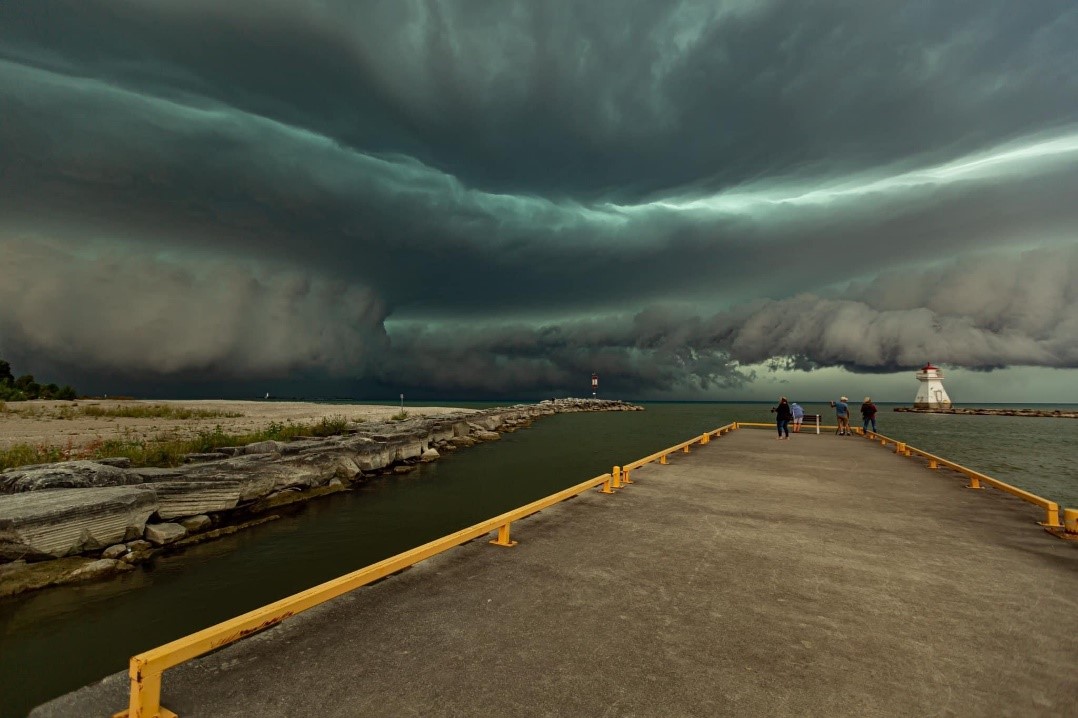 Dear First United Friends,
I am sitting on the deck of our summer home in Southampton. It is a beautiful day – very calm, sunny and warm. The birds are still coming to our feeders, and we have bunny rabbit that makes an appearance on our site. This day is the calm after the storms. For the last two Tuesdays – September 7 and September 14 - we have had some very severe weather here in the Saugeen Shores area. Last Tuesday September 7th a tornado paid us a visit and did a fair bit of damage. A lot of trees were brought down – so sad to see. But the good news is no one was hurt – which we thank God for. While the storm was violent and scary the sky was spectacular – never seen such cloud formations before. They were ominous and letting us know that a storm was coming across the lake. The picture above shows those ominous clouds by the lighthouse in Southampton… minutes before the storm…
Some of you may be wondering how our editor Lynne Blake-Dickson has been enjoying her time away with her cherished family in White Horse. She has sent me a lot of pictures – some of them I have included at the end of this week's letter. The scenery around White Horse is beautiful. There is no doubt that God's presence was there to create such beauty!
Where do you see and feel God's presence? Please send us any pictures we would love to see them and include them in our letter.
Hugs Jo
**********
FAITHFUL, RESPECTFUL RETURNING
Summer is fading into Fall. School, colleges, and universities are re-opening for in-class learning. First United is offering the option of in-person worship. It's been a long, strenuous time of living under the siege of a global pandemic. It isn't over yet, and it will likely drag on for some time yet. But, because of vaccinations and reduced numbers of cases, more freedom of movement and opportunities for in-person contact are currently live options. We realize that there are mixed feelings about that in our congregation from excitement, to uncertainty, to anxiety. However, if you are feeling, whatever you are willing to risk or not risk, we honour your decision and encourage you to choose what seems safest and most healthful. Worship and other church activities will continue to be offered on-line as well as in-person. Whatever any of us opts for still allows us to be together in community. We are beginning to call it integrated church rather than hybrid church. All of us will continue to seek to bear one another up as we yet manage our griefs and losses, rumble with our fears and concerns, discern how and when and with whom to take some risks, and find our way into the ongoing variations in "the new normal" of faith and life in human community. Rose Ann and I look forward to meeting with you, being present for you, sharing the journey of this transition time with you. We carry you on in our hearts, in our thoughts, and in our prayers.
Blessings,
Harry and Rose Ann
**********
WORSHIP THIS SUNDAY
Sunday, September 19 - Psalm 137; Nehemiah 7 and 8 various verses
The theme is Trust: Singing Our Song in a Foreign Land.
To join the online service please CLICK HERE
Join us for Coffee time and Conversation CLICK HERE
**********
WORSHIP IN THE CHURCH BUILDING
I hope that you have all seen the "Return to In-Person Worship" video that was sent out last week. If you have not, it is on the church website.
We are looking forward to seeing many of you! The services will also continue to be live streamed, so if you are not ready for in person meetings yet, that is perfectly fine! We trust you to know what is best for yourself.
We had a trial run on September 5 and our first "official" in-person service on September 12!, Both went well and showed us a few places to improve our procedures.
We are asking that those planning to attend worship on Sunday morning arrive early. Getting to a seat is takes a little more time than you remember! And remember, always wear a mask!
To reduce cross contact, we are trying to have everyone moving in the same direction. The preferred entrance will be the double doors off Waterloo Square parking lot. We will also unlock the William Street Hilliard Hall doors to accommodate those walking.
When you are parking, please keep the spaces behind the chapel for people with mobility issues.
As you enter the narthex, you will need to be signed in. This can happen in a few different ways.
You may have preregistered either with the office or online. If that is the case, you will be marked as in attendance with a check mark.
If this is your first time back in the building, you will need to fill out a waiver (required by our insurance). This will count as your sign in for that Sunday.
You may be asked to add your name to a contact list.
You might hand in a prefilled screening form.
Which ever way you sign in, you are indicating that you are voluntarily attending and that you do not have any COVID 19 symptoms.
Once you are signed in, you will be ushered to a seat. Pews will be filled from the front to the back, and you must stay in your seat for the duration of the service. An usher will indicate when you can leave.
There will be lots of worship elements that you are used to, and there will be changes too. The biggest change will be in the music and prayers. These will be led by others and allow those of us in the pews to spend more time in contemplation of what we are hearing.
When the service is over, an usher will indicate when you can leave the pew. We ask that you please proceed right through the outside doors. The ministers will be waiting for you there. If you want to speak to each other, outside on the lawn is the safest place to do that!
Your Safe Start Team:
Cathie Stewart Savage (Chair); Ken Arnett; Jay Brooker; Sheena Curwood; Rev. Harry Disher; Joe Hipperson; Kathleen King Martin; Ron Taylor.
**********
WEEKLY WORDS FROM THE PART-TIME MINISTER OF WORSHIP AND PASTORAL CARE
GREETINGS FROM THE MINISTER OF WORSHIP AND PASTORAL CARE
Sunday, September 19
The theme is Trust: Singing Our Song in a Foreign Land.
Celebration of Life for Nikaya Snell at 1 PM: (CLICK HERE)
Sunday, September 26
We'll reflect on songs and scripture and celebrate communion. Happy Hour Church is offered once a month, alternating leadership between me and the Rev. Harry Disher. It's such a lovely way to interact and share your thoughts with others on a Sunday afternoon. On the 19th we'll talk about Psalm 137 and the morning's sermon. Have some bread and wine (or fruit of the vine) handy. I hope to see you then!
Monday, September 20 is Election Day.
For the United Church's web page on Faith and Politics: (CLICK HERE)
Wednesday, September 22 from 1:00 to 2:30 ~ For information on Indigenous Justice and Right Relations: (CLICK HERE)
Thursday, September 23 at 1 PM Pastoral Care Committee on ZOOM. (CLICK HERE).
Sunday, September 26 is Orange Shirt Sunday.
You are invited to wear an orange shirt to remember and honour the Indigenous children who were taken from their communities and families and brought to residential school -- many who never returned and remain on the grounds of those institutions in unmarked burial sites. And to reflect on our role in colonialism and the residential school system and make a commitment to ongoing reparations. For more information CLICK HERE and also CLICK HERE.
Tuesday, September 28 at 7 PM is a Birthday Celebration! (CLICK HERE) All September birthday are invited to gather on ZOOM and share a birthday story. Please let me know your birthday and then come and party with your birthday buddies on the 28th.
Tuesday, September 28 at 7 PM ~ A presentation on Caring for the Care Givers - please rsvp: (CLICK HERE)
Tuesday, September 28 at 2 PM is Caring Community.
Mark your calendars! More information will follow in next week's letter.
Monday, November 1 ~ An online All Saints Memorial Service led by our Moderator, the Rev. Dr. Richard Bott. Include the name of your loved one(s) lost during the pandemic by CLICKING HERE by October 1. The service will be live streamed on November 1st on the United Church YouTube Channel (CLICK HERE). And send me the names of those you would like remembered during our Remembrance Day Service on November 7th at 10:30 AM.
Office Hours: I will be at church on Thursday-9/23, Sunday-9/26, and Tuesday-9/28. Please contact me if you would like to drop by or have me visit you. Other times, I am working from home. Feel free to call or email me if you would like to talk.
Pastoral Care during the Month of October: I am on vacation this month, please contact the Rev. Harry Disher for pastoral emergencies
You are blessed to be a blessing!
The Rev. Rose Ann Vita
(647 763 0101 and rose.ann.vita2@gmail.com)
Pastoral Care ~ Please reach out if I can be of pastoral assistance. I am just a phone call or email away. The Rev. Rose Ann Vita (Mobile: 647-763-0101 / Email: rose.ann.vita2@gmail.com) Happy Summer!
______________________________________________________
Interested in Membership? Or in knowing more about the United Church of Canada? Just contact Rev. Harry Disher (revharryd@gmail.com) or Rev. Rose Ann Vita (rose.ann.vita2@gmail.com). They will be happy to find a time to have a conversation with you.
**********
TRANSITION TEAM UPDATE
As we move into the Fall and look forward to being able to offer in person as well as online meetings, your Transition Team has been working on ways to confirm the core values of our congregation. These core values are what we want to be at the foundation of both who we are now, and who we want to continue to be as we move into new ministries. Why is this work important? It is important because we need to be able to clearly say who we are to have a successful transition to new permanent minister(s).
We will be sending out information and questions for you in the next week that will include an invitation to participate in a discussion group. You can choose your preferred method of meeting and the time that might work best for you. We promise to be flexible. We really want to hear from everyone!
Your Transition Team:
Cathie Stewart Savage – Chair; Debora Smith – Secretary; Greg Case – Communications; Mary Joan Brooker; Shirley Irish; Carol Stephenson – Western Ontario Region Liaison
**********
SMALL GROUPS COMING ALIVE
Holy Strollers
Sorry if you showed up to walk the Hydro Cut trail system last Wednesday. Unfortunately, due to flooding and mud the trails were all closed.
Not many have been showing up for these walks, so I am discontinuing them after next Wednesday and considering a re-scheduled time that might work better for people who would like to participate.
Next week, here's the plan:

Wednesday, September 23 – 6:30-7:30 p.m. - Forest Heights Trail. 49 Yellow Birch Drive. Meet in the parking area (which maybe off of Stonehenge Place, I haven't had a
chance yet to check it out. We can likely find one another.)
*** Let me know if you plan to come so I can watch for you. ***
Blessings, Harry
Let's Talk About It - Broadview Magazine Discussion Group
Our October gathering will be held on Wednesday, October 20 at 10:00 am. We'll be talking about the October issue of Broadview.
Please check the church website for the Zoom link for this gathering.
Walt
**********
BOOK CLUB
Our next book club is on Saturday October 2nd, 2021, and the selection is Caste: The Origins of our Discontent by Isabel Wilkerson.
"As we go about our daily lives, caste is the wordless usher in a darkened theater, flashlight cast down in the aisles, guiding us to our assigned seats for a performance. The hierarchy of caste is not about feelings or morality. It is about power—which groups have it, and which do not."
Isabel Wilkerson gives us a portrait of an unseen phenomenon in America as she explores, through an immersive, deeply researched narrative and stories about real people, how America today and throughout its history has been shaped by a hidden caste system, a rigid hierarchy of human rankings.
Words Worth Books will have some copies in (at a 20% discount). Please consider supporting our local Bookshop.
You can find information to join at https://www.firstunitedchurch.ca/events/book-club--97
Greg Case
**********
WORSHIP IN COMING WEEKS
Sunday, September 26 - Psalm 15, Genesis 12, 18, 21, various verses
Theme: Love
You can always view the weekly service by going to the webpage each Sunday morning, or you can see previous live streams at firstunitedchurch.ca/live.
You can also go to our webpage to find the Zoom Link for Coffee Time each Sunday after the church service.
If you would be interested in leading a worship service or in participating in some way please let me know at gregjcase@gmail.com.
For Pastoral Care needs please email the church (office@firstunitedchurch.ca). For our Minister of Pastoral Care call Rose Ann Vita 647-763-0101 (cell) or rose.ann.vita2@gmail.com (email).
Interested in Membership? Or in knowing more about the United Church of Canada? Just contact Rev. Harry Disher (revharryd@gmail.com) or Rev. Rose Ann Vita (rose.ann.vita2@gmail.com). They will be happy to find a time to have a conversation with you.
**********
WAYS TO DONATE TO FIRST UNITED
You can get your offering to the church office in several ways:
You can use PAR, or
E transfer to firstunitedchurch@rogers.com, or
Website donation to www.firstunitedchurch.ca, or
Send a cheque to First United Church, 16 William St. West, Waterloo ON N2L1J3, or
Drop a cheque into the mailbox located at the Entrance on William St. side.
**Just a reminder- credit card companies have a fee of around 3-5%. If you wish the church to get the full amount, then please add that % to your contribution. **
**********
STEWARDSHIP/FINANCE
A great big THANK YOU to all who responded to our Stewardship letter. We very much appreciate the extra support!! It has made our start into the fall a lot easier! Thank You!
Nancy Lennox
| | | | |
| --- | --- | --- | --- |
| | Month of August | August YTD | YTD Prior Year |
| General Fund Local | $17,425.00 | $127,854.23 | $124,576.26 |
| Wage Subsidy Grants | 224.92 | 9,662.93 | 4,224.62 |
| Other Operations | 4,583.69 | 56,136.35 | 45,747.88 |
| Mission & Outreach | 3,294.00 | 29,486.12 | 30,706.00 |
| Total Income | $25,527.61 | $223,139.63 | $205,251.76 |
| Salaries & Benefits | 24,732.64 | 186,003.41 | 153,669.37 |
| Other Expenses | 9,001.92 | 73,634.05 | 63,890.56 |
| Mission & Outreach | 3,294.00 | 29,486.12 | 30,703.00 |
| Total Expenses | $37,028.56 | $289,123.58 | 248,262.93 |
| Excess Income/Expenses | $(11,500.95) | $(65,983.95) | $(43,011.17) |
| Capital Income | 800.84 | 156,891.38 | 46,428.22 |
| Capital Expenses | 62.35 | 147,141.16 | 54,394.39 |
| Capital Excess Income/Expenses | $738.49 | $9,750.22 | ($7,966.17) |
RESILIENCY CHALLENGE
Thanks to all who have remembered to contribute to the Resiliency Challenge to pay back the loan for the mold abatement. Donations continue to keep ahead of the loan payments, so we do not have to use operating funds for this purpose. We are over halfway there!
Joan Westcott
**********
HELP WANTED! SUNDAY TECH SUPPORT!!
We are hoping to find some people in our congregation who would be willing to help with Sunday morning worship.
(Beginner & Intermediate Level) Managing the sound in the Sanctuary: Turning on and off mics during the service, setting the sound levels and catching any sound issues that arise.
(Beginner & Intermediate Level) Managing the "service flow" that is being presented on a livestream and on the screens in the sanctuary, switching words for hymns and liturgy and changing "slides" that are being presented.
(Advanced) Streaming and Production
(Beginner & Intermediate) At home you can set up the slides for each Sunday's service (you will need a computer)
Training will be provided for all of these roles. The hope is that we develop a roster of people who are able to take scheduled weeks.
If you are interested in learning production skills or curious about how things work and would like to help out, or simply know more, please contact Greg Case at gregjcase@gmail.com
There are also volunteers needed to help update the webpage and various "computer" tasks.
For High School Students this can be used towards your community volunteer hours
Thanks
Greg
**********
NOON HOUR CONCERTS – Important Updates
The Choir Auxiliary is happy to announce that our new procedures comply with the requirements of the Church's Safe Start Committee. This means that we're able to sell our lunches in Hilliard Hall, and present our concerts live in the Sanctuary. Here are the changes we're asking of YOU to comply with the Province's Covid Protocols for Concert Venues:
Pre-register foreachconcert by 6 p.m. Sunday at firstunitedconcerts@gmail.com
Show proof of double vaccinations upon entering
Self-health checks for covid symptoms (list on church entrances)
Complete and forward (or bring) the insurance waiver attached to the confirmation email
5. Wear a mask at all times unless enjoying lunch
Avoid socializing inside the church
Choose a seat indicated by a cushion for social distancing
Musicians' fees have increased so we've had to raise our lunch prices.
full sandwich, square & tea or coffee $10
half sandwich $3
square $2
coffee or tea $2
water & concert FREE
EXACT CHANGE ONLY PLEASE
We're looking forward to welcoming you back, and of course to listening to our amazing musicians. On Tuesday October 5th from 12:15 - 12:45, we'll open with the fabulous Andriy Tykhonov on piano and Robin Habermehl on saxophone. For the complete concert schedule, visit www.firstunitedchurch.ca under EVENTS.
See you there! Stay safe!
Sharon Gowland, Concert Co-ordinator
**********
SING FIRES OF JUSTICE
This year's Sing Fires of Justice will again be a zoom event. The poster attached provides the link and other information.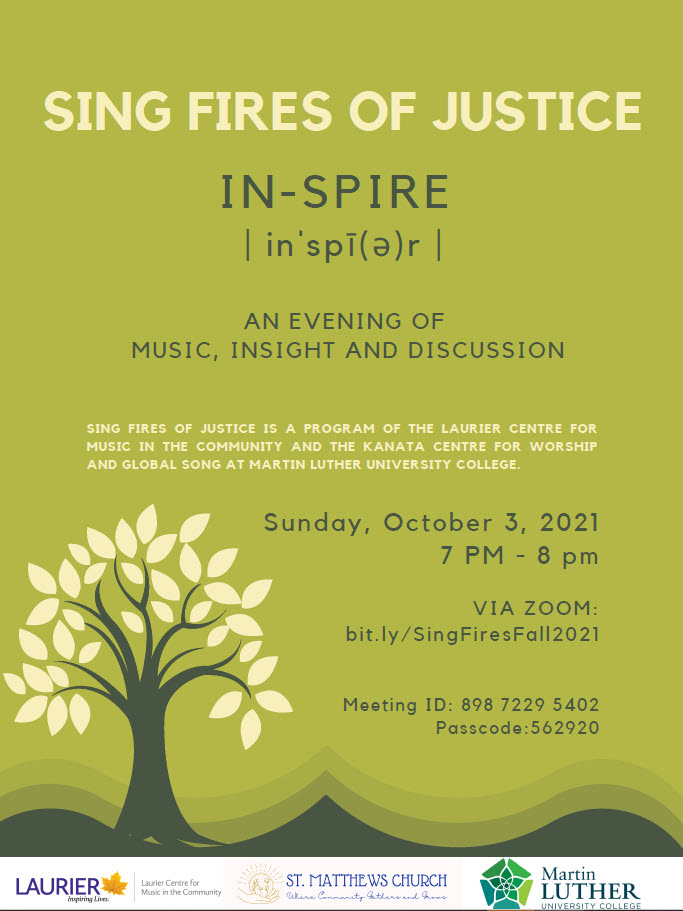 The SFJ committee is hoping you will be able to promote this event to your areas of influence.
We are pretty pleased with the theme of IN-SPIRE (both to provide encouragement/hope, and to breathe in!). There will be a variety of musical offerings, interactive opportunities, a focus on living in these days, and some community challenges as a result of COVID-19.
With thanks,
Lee Willingham
**********
FRIDAY LETTER
The Friday Letter will continue this Fall but will not be produced every Friday. It will be produced every two weeks. In the table below are the dates for October and November when the Friday Letter will be appearing in your mailbox. We are also including the dates when we would like to receive articles for these letters.
| | |
| --- | --- |
| DATE OF THE LETTER | DEADLINE FOR ARTICLES TO BE SUBMITTED |
| Friday October 1st, 2021 | Tuesday September 28th end of day |
| Friday October 15th, 2021 | Tuesday October 12th end of day |
| Friday October 29th, 2021 | Tuesday October 26th end of day |
| Friday November 12, 2021 | Tuesday November 9th end of day |
| Friday November 26, 2021 | Tuesday November 23 end of day |
**********
Together We Stand, but Apart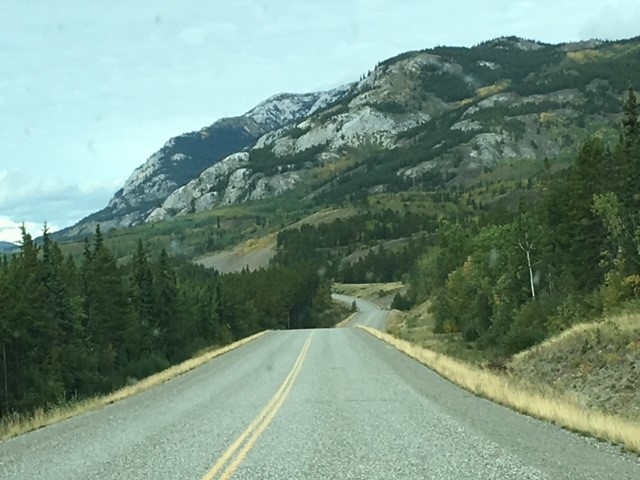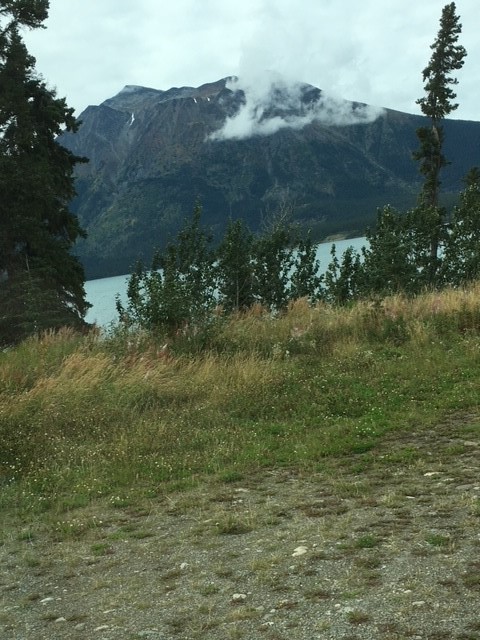 White Horse, Yukon – photos compliments of Lynne Blake-Dickson.